Word on the curb is that Phaedra Parks of The Real Housewives of Atlanta has officially gotten the boot!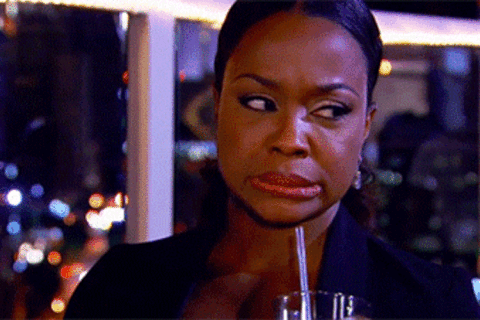 Details below…
Well all the Phaedra haters finally got their wish… the popular entertainment attorney will NOT be returning for season 10 of?RHOA and it's not because she doesn't want to.
Phaedra's true character will be revealed during the explosive season 9 reunion show (click HERE for the sneak peek trailer), when she is outed as being the person who told Porsha that Kandi wanted to "drug her" and take her "to a sex dungeon".
[READ: RHOA Reunion Show Tea: Fake MakeUps & Breakups + RIP Frick & Frack… ]
I've heard from several REPUTABLE sources, that it's official that Parks will?NOT?be back for season 10.
While many believe that Phaedra won't be returning because of the reunion, I've been telling y'all all throughout the season that she was on the chopping block for her lacking story line and the fact that she's top heavy when it comes to salary.
I've been told that Kandi Burruss, Kenya Moore, Cynthia Bailey, Sheree Whitfield, Porsha Williams all received their letters of commitment for season 10.
It's always been my assumption that someone had to be dropped in order for there to be money in the budget to bring back Nene Leakes & Kim Zolciak for season 10… and it just so happened to be Phaedra, who?was one of the highest paid at $1.3 Million this past season (coming in 3rd behind Kenya?Moore).
[READ:?RHOA Season 9 Salaries Revealed! Who's the Highest/Lowest Paid…]
Now Nene Leakes and Kim Zolciak?are reportedly on board to return for the benchmark season and Phaedra is forced to return to her desk job at the law liberrrry ?her legal profession.
On a related note, Phaedra has already removed all signs of "Real Housewives' from her social media so be prepared to hear a statement that she "quit" soon.
What do you think of news of Phaedra's termination?