It's official! Tyler Perry's latest Halloween flick is a hit.
Just a few weeks ago, I was excited to see that Perry was featuring a slew of local talent in his new movie.
[READ: Atlanta-Based Youtubers De'arra & Ken (DK4L) Appear in Tyler Perry's 'Boo2'… ]
Well, Perry's Halloween efforts clearly have payed off in a big way as his flick landed the top spot in the box office this past weekend.
Details below…
Perrys' 'Boo 2! A Madea Halloween' hit theatres October 20, 2017 and took the top spot at the box office this weekend, raking in $21.6 million!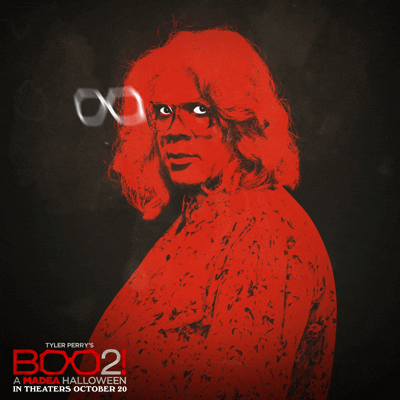 Deadline reports:
That film is absolutely working,?stoking its audience and winning the weekend off a respectable low $20M production cost with an estimated three day of $21.65M.

Boo 2!?is the tenth Perry title to open at No. 1, and it?s Lionsgate?s fourth No. 1 weekend this year so far.
Boo2 hit theaters approximately 12 months after it's first installment and critics are quite impressed with it's numbers.
Similar to the first film a year ago, Boo 2?played to a broad audience with African Americans (38%), Caucasians (31%), Hispanics (21%) and Asian (4%) according to Screen Engine/ComScore?s PostTrak.

That general audience play led to the first chapter?s over-performance, even generating bucks well beyond Halloween with a final 2.56x multiple of $73.2M. In addition, Boo 2!?drew more females than Boo!,?65% to 52%, and drew more of the over-25 crowd, 65% to 60%.

In sum, older females enjoyed?Boo 2!?with an overall positive score of 73% and a turnout of 36%, versus their 32% turnout on the first?Boo!.?

The?sequel even received an A- CinemaScore to?Boo!?s ?A? grade last year. 64% of?Boo 2?s crowd was female, with a 61% over 25, 39% under 25 split.
Boo 2!? is in theaters now and is definitely worth the price of admission! It's also Perry's 20th feature film and so far, this movie brings his box office total to a whopping $943M!
For the record, Geostorm came in a distant second with $13 million followed by Happy Death Day with $9 million.
Congrats to Tyler Perry and the 'Boo2' cast & crew!