Another day, another reality show star heads to the clink. ?This time meet Christine 'Chrissy' Lampkin, 42.
Lampkin, ?one of the stars of the star of VH1's 'Chrissy and Mr. Jones,'?posed for the mugshot above after she was arrested in Newark, New Jersey and charged with one count of third-degree aggravated assault.
[FLASHBACK: Reality Show Sexpots: Kandi, Chrissy, Evelyn & Tamar Glam it Up for Photoshoot…]
Apparently Chrissy got into an altercation with a women in a bar, which resulted in her punching the victim in the face.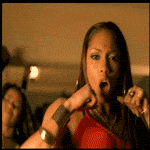 Details below…
New Jersey authorities report a?fight between two women in an Edgewater, NJ lounge early Sunday sent one woman to an area hospital with an open wound.
The police were called to Spirit Lounge on River Road around 2:30 a.m. for a fight in progress, Detective Sgt. Brian Van Wettering said.

The incident began with a dispute inside the lounge, Van Wettering said, but the assault occurred in a small foyer outside the lounge where identification is checked.

Christine Lampkin, 42, of Newark, was arrested and charged with one count of third-degree aggravated assault for punching the victim with a closed fist and one count of disorderly conduct, Van Wettering said. The police are not releasing the name of the victim, and alcohol and drugs were not involved, Van Wettering said.
Lampkin was bailed out by her fianc?, Joseph G. Jones, aka rapper Jim Jones.
As you know, Lampkin and Jones star in the VH1 reality show, ?Chrissy & Mr. Jones,? which chronicles the couple?s life and their road to the alter.
What do you think of Chrissy's recent bar brawl?
How old is too old to be fighting in the club?