K. Whasserface hit Instagram Live a few days ago and "accidentally" exposed herself online.
The singer/reality star faded in and out of consciousness as she chatted with fans during a late night livestream while lying naked in bed recovering from her latest plastic surgery procedure.
[FLASHBACK: K. Whasserface in Tears Over Botched Butt Jobs (VIDEO)… ]
Some are speculating that Whasserface intentionally bared her breasts online while others fear that the episode was a cry for help.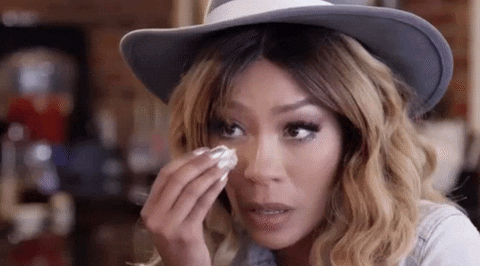 Video below…
As you know, K. Whasserface has reportedly been undergoing several corrective surgical procedures for her botched butt jobs and many are assuming that she was under the influence of pain killers when she went live on Instagram.
Ok now what the fuck was K. Michelle on last night 😂😂😂😂 pic.twitter.com/nPnr3kUwaA

— #CreepLife (@TheCreepeers) June 5, 2018
The singer has slurred speech and can barely keep her eyes open during the stream. She also states something about 'sh*tting' all over the place while lying in bed.
K. Whasserface has stated in numerous interviews that she lives daily with pain due to her botched procedures. The LHH star admits it was low self esteem that aided her poor choice of being pumped with unknown toxins to inflate her backside during a back alley surgical procedure (click HERE if you missed that).
She has recently undergone another procedure and is now on bed rest.
It's got to be nerve wrecking to have to go under the knife every other month to "fix" what wasn't broke in the first place.
[READ: New Face? Who Dis? K. Michelle Reveals New Look… (PHOTOS)]
Whatever the case, it seems that the artist was feeling "no pain" during the live stream as she showed off the work of her latest plastic surgeon.
"Obtundation" is one of the side-effects of prescription pain killers i.e. Percocet. It's that strange, floaty feeling provided by narcotics and achieving that feeling is one of the main reasons people abuse drugs.
Those under the influence of prescription drugs may also find it difficult to think, reason, or make decisions. Due to the fact that a person using these types of drugs can slide from obtundation into unconsciousness, it's important to alert a doctor if you're feeling particularly out of it.
What do you think about K. Whasserface's 'accidental' wardrobe malfunction?