Oh…Em…Geeee!!! Nene Leakes of The Real Housewives of Atlanta just dragged Kim Zolciak Biermann's daughter, Brielle yet again!
[READ: Shots Fired! Nene Leakes Blasts 'Racist' Kim Zolcaik-Biermann & Daughter Brielle… (VIDEOS + EXCLUSIVE DETAILS)]
One would think after that last 'Roachgate' flogging, that Brielle would have learned a less, but like her mom, she appears to be a slow learner. *sigh*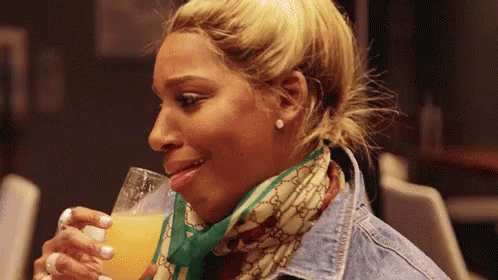 Details + video below…
Brielle hit the 'gram a few moments ago to state that "social media isn't fun anymore" due to the fact that nameless, faceless people drag her online everyday.
After being called out about her own actions on social media (i.e. Roachgate), the 'Don't Be Tardy For The Trailer Park Party' cast member decides to respond to one of the nameless, faceless people in her comments section.
Kim's spawn follows her lead in lack of accountability and says in her response that she never posted the ROACHGATE videos that were taken inside of Nene Leakes' home last July. She further claims that "Nene did" and also states "ask Nene herself".
Brielle's comments drew another much needed roast from Nene Leakes.
Welp… that was a read!
The apple clearly doesn't fall too far from the trailer park tree. It's obvious that Brielle has inherited her mother's nasty attitude.
[READ: Kim Zolciak-Biermann's Backstage Breakdown is Eyeopener About White Privilege & Racism… (VIDEO)]
KKKim has been getting dragged from here to Timbuktu since she was outed for her White supremacist attitude and apparently Brielle's catching a bit of that heat too.
[FLASHBACK: Racist Or Nah? Brielle Defends Confederate Flag on Instagram… (PHOTO)]
While this exchange between Nene and Brielle was quite entertaining, I don't expect that KKKim will be dumb enough to chime in.
But then again… the day is young.
What are your thoughts about this latest Nene vs. Brielle exchange?