Mo'Nique and Sidney Hicks have been on a roll lately as they blast the Black Hollywood elite.
As you know, this all started when Mo'Nique spoke about Oprah Winfrey, Tyler Perry & Lee Daniels onstage, telling them all to 's*ck her dick' if she had one. (click HERE if you missed that).
The conversation moved on to include Mo'Nique's husband/manager, Sidney Hicks, who joined his wife on Periscope to describe the background behind her bitter feelings towards Oprah Winfrey.
[READ: Story Time! Mo'Nique Explains History Behind Oprah Winfrey Beef… (VIDEO)]
Well now the couple has returned with even more tea spillage as they break down the recent conversation they had with media mogul Tyler Perry, who contacted them after watching Mo'Nique's videos online.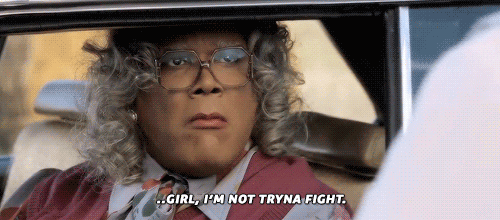 Watch full video of Mo'Nique's latest roast session below…
VIDEO: Mo'Nique: "Our Discussion With Tyler Perry"
In the hour-long video above, Mo'Nique and her husband discuss a conversation that they recently had with Tyler Perry.
According to Mo'Nique, Perry called her from the Bahamas and said he watched the video she made after her 's*ck my d*ck' comments went viral.
Mo'Nique explains that Tyler apologized to her and said that he saw all of her pain BUT… (and there's a bit huge BUT involved), he doesn't want to speak publicly about the situation because he has a movie coming out soon and it's "too hot" right now for him to speak on the topic.
Perry did, however (at least according to Mo'Nique) admit that the entire situation is messed up but he's unwilling to speak for Oprah or Lee Daniels, but takes full responsibility for his action and the things that he ALLEGEDLY did to hurt Mo'Nique's career.
Mo'Nique's bitterness and pain is deep rooted and it's clear that she's hurt about how her career didn't advance the way she thought it would after winning the highest award an actress can acquire…. but again, I don't know if all of this blame and conversation is going to help her get what she wants.
Even if Tyler speaks out about the situation, how would it change Mo'Nique's value in Hollywood today?
I commend her for standing up for what she believes in but I'm not so sure that there's a clear goal in mind. As I listened to the podcast/video, Mo'Nique and her husband both stood in unity about how Black actresses are treated unfairly and aren't paid or treated equitable to non-Black actors/actresses.? This we know and have known for decades.
They even brought up Gabbourey Sidebe in a story about how Lee Daniels had her walking red carpets without hair and makeup and Mo'Nique spoke up on her behalf to get her appearance up to par so that she wouldn't be on the carpet "looking like Precious'.
Again… the conversation goes from "I've been treated unfairly and blackballed" to 'I'm a Black actress who opposes the mistreatment of all women of color in Hollywood'.
I'm not buying it.? Mo'Nique seems to now be trying to feed off of our racial sensibilities in her war against these bigwigs when initially it was an issue about how SHE was treated.
Her pain is her pain, but again… I think Mo'Nique needs to be accountable for some of her problems as well.? It's not always everyone else's fault.
*steps off soapbox*
What do you think of Mo'Nique & Sidney's 'Tyler Perry' roast session?