Porsha Stewart
of
The Real Housewives of Atlanta
has had quite an eventful Summer.
Not only did the newbie 'housewife' gain a ton of fans, but she also lost a husband due to her stint on the popular reality show.
[FLASHBACK: Who Knew Porsha Stewart Was A 'Butt Model'? (PHOTOS)]
Having fought for months about the specifics of their separation from soon to be ex-husband Kordell Stewart, Porsha is on a mission to find herself.
[FLASHBACK: Who Knew Porsha Stewart Was a 'Video Ho' (PHOTOS + VIDEO)]
As most women do, the suddenly single socialite went through a short transitional period where she shed her signature weave (click HERE if you missed that), but it didn't take long for Porsha's hair to grown 10 or 25 inches.
Now Stewart is turning her penchant for faux hair into profit by shedding her inhibitions without shedding her weave.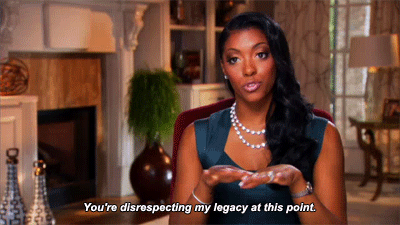 Wanna see Porsha NAKED?
Porsha shed her clothes for a sew-in weave long enough to make a wrap dress in a new campaign for 'Naked Hair' her new human hair line.
NAKED Hair is created by Porsha Stewart for the Porsha Stewart Collection. NAKED was inspired by women Porsha has met throughout her life.
Porsha goes on to explain that…
She believes that women are most beautiful when they wear confidence and a smile. Needing nothing else; pure, refined and NAKED. Naked Hair dares you to go deep and get NAKED.

Wear the hair that commands nothing else. Naked Hair empowers Porsha Stewart. She feels no greater pleasure than that of servicing the strongest and beautiful creation ever created. WOMEN in our most enchanging form: NAKED.
[Sidebar: who wrote that crap!? :shock:]
A few months ago, Porsha was ordered to vacate her soon-to-be ex-husband Kordell's home and was awarded temporary alimony for three months in the amount of $15,000.
The marketing is certainly meant to capture attention, IF her target audience is horny teen boys.
However, it's great to see that Porsha was smart enough to explore her entrepreneurial skills with the new hair venture as her alimony runs out.
What do you think of Porsha's new "Naked" hair idea?
Smart move or dumb idea?