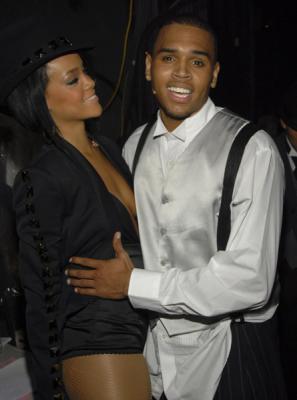 The Star is reporting that Chris Brown and Rihanna secretly tied the knot over the weekend.  Stating that the two not only reunited at Diddy's Miami mansion…they got MARRIED!
"All she's ever wanted was to be with him forever," a source tells Star. "Rihanna is looking for the husband-and-two-kids deal before she turns 25. She believes in fairy tales, and she wants to live hers with Chris. She was totally up front and confessed to him, 'I can't live without you.'"

The pair wasted no time making Rihanna's fairy tale come true. They even called a minister to the mansion on exclusive Star Island!
I know you're thinking…why believe The Star?  Well, I don't believe it either but its worth noting simply because if it does happen to be true, as man and wife, Rihanna can't be forced to testify against her husband.  Just something to think about…
Beaten/Battered/Bruised/Shattered and STILL working on my behalf. I've nicknamed my iPhone "Rihanna"…
One of my many "ATLien-isms" ~ Follow me on Twitter to get more.
Related:
Rihanna's Battered Pics Surface + Still No Chris Brown Mugshot