Kap G wrote released the song "Fuck La Policia," last year but it's message resonates now in light of several questionable deaths at the hands of police officers.
The song was released months before the murders of Michael Brown and Eric Garner, but it's a reminder that abuse of power, and the toxic hurt that follows it, are nothing new.
I wrote this song two years ago, out of frustration from being pulled over for no reason after leaving a studio session. I didn?t think much about who would hear this song when I recorded it, I just knew that this feeling was too painful and demeaning to not speak on it.

I felt, as a young Mexican American writer, artist, and youngin, that it was my responsibility to give a voice to this feeling that sooo many young minorities were dealing with.
Rappers T.I. and David Banner joined Kap for a remix of the song, now shortened to "La Policia," which was released earlier today (April 9, 2015).
Their version calls attention to how Kap's original was no less relatable because it came from a specifically Mexican-American perspective?learning too early to fear cops is an experience too many people of color in America share.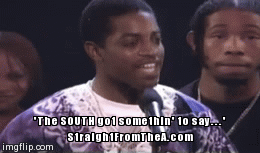 Listen to Kap G's 'La Policia' Remix ft. T.I. & David Banner below…
In a statement, T.I. wrote"
"For decades there has been a fear and true resentment for the young minority's presence in our country's society. This has led to the consistent barrages of unlawful arrests, unwarranted profiling, and shameful assassinations of our OUR FATHERS, BROTHERS, COUSINS, UNCLES, GRANDFATHERS, SONS and in some cases, OUR DAUGHTERS, SISTERS, MOTHERS and GRANDMOTHERS (come on now??). The blatant disregard for the value of OUR PEOPLE's rights, lives, and legacies have been ever present in America for all of US to see. Yet, nonexistent to all of YOU who choose not to. How long can WE expect any human being?no, any living creature to continue to accept inferior/substandard treatment, and conditions before the inevitable happens?"
David Banner adds:
"From the beginning, the relationship between police departments and communities of color has been a tumultuous one. For too long, some officers have abused their authority and have not upheld their commitment to protect and serve all members of the community."
Special shout out to Kawan Prather for the heads up. 🙂
What do you think of Kap G's 'La Policia' (Remix) ft. T.I. and David Banner?