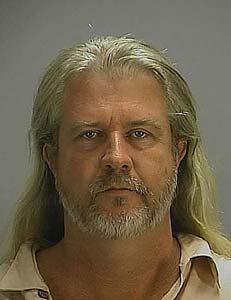 Troy Dale West, Jr. (above) was arrested last week after alledgedly attacking a 35 year old Black woman in front of her 7 year old child at the entrance to a Cracker Barrel restaurant in Morrow, Georgia. According to Police reports, Tashawnea Hill told him to be careful when he almost ran into her child and that's when West snapped and started punching and kicking the 35-year-old Army reservist while shouting racial and sexist slurs.
West admitted striking Hill but claimed that she spit on him and accused him of hitting her child with the door but none of the witnesses corroborated his story. In fact, witnesses and surveillance video confirmed Hill's story, and now the FBI has "initiated an investigation in the matter to determine if a civil rights violation occurred," the agency said in a statement.
Also, because the alleged incident happened in full view of Hill's 7-year-old daughter, the Clayton County district attorney's office added a felony charge of cruelty to children. "[The woman's daughter] was visibly upset the night of the attack," according to Capt. James Callaway of the Morrow Police Department, who said he was on the scene shortly after the alleged attack. A police report of the incident said Hill's daughter was "crying uncontrollably and her body [was] shaking/trembling" from witnessing the attack.
"The man slung open the door pretty hard and fast and I had to push my daughter out of the way," said Hill. "I turned to the man and I just said, 'Excuse me sir, you need to watch yourself; you almost hit my daughter in the face.' And from there it just went downhill."
The Cracker Barrel's manager told police he stepped between West and Hill to stop the alleged assault.
Cracker Barrel spokeswoman Julie Davis said Wednesday that the restaurant was cooperating fully in the police investigation.
According to Hill's report, and confirmed by many witnesses, West yelled: 'You're an fucking black nigger bitch,' and then began to punch and hit her. West is now out on bail after posting a $12,150 bond.
Video from the scene below: Continue Reading…