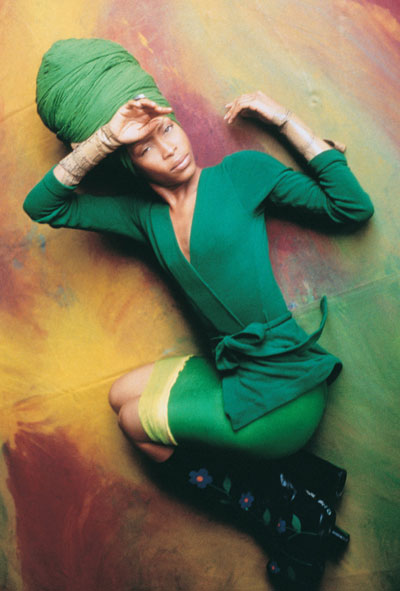 There are those who might take me to task for this, who'll say that this memory fulfills no portion of my self-imposed litmus test. Erykah Badu isn't "Atlanta," especially not O.S.A.M.y, old school. She ain't a female rapper either. For the purposes of exposition, I'ma claim her as both anyway. Why? Because:
1.) I've always wondered if she woulda stayed 'Apples' the rapper had she not had to coo (and mumble) her lyrics to get some playing time in the game (and chivalry from all them big ol' balls).
2.) If ya baby got a granny in the A, close enough. You got cherished "A"lien spawn so you're eligible for citizenship papers, a work VISA by association if you have a unique skill to offer the masses. 'Nuff said.
3.) Save for Diamond and Princess, it ain't hardly no female rappers FROM Atlanta – new, old, private or any other school. Left Eye was Phillyfied and heavily influenced by that; DaBrat is Chicago all day. Umma love and claim them both as sistas in the struggle in life and death, freedom or…otherwise, but both are VIA Atlanta. I can't seem to find anyone of their caliber who is from or of Atlanta.
**In the KRS1 voice I ask, why is that?**
This is an open, Sandman-esque challenge to my fellow ATLiens. I'm not saying you can't do it, but I'm admitting that I can't and I been in this 'burg since '77. The groundbreaking duo Silk Tymes Leather notwithstanding (Gotcha! What?), find me one female rapper who is from Atlanta, was in Atlanta when female rappers started banging, like Cheryl-'n-Sandy-Super-Nature-ly, Safari Sisters era banging that anybody outside of your senior class remembers. I'm serious. Mind you, Diamond and Princess weren't even born Continue Reading…