Another day, another reality show star heads to the clink. ?This time meet Christine 'Chrissy' Lampkin, 42.
Lampkin, ?one of the stars of the star of VH1's 'Chrissy and Mr. Jones,'?posed for the mugshot above after she was arrested in Newark, New Jersey and charged with one count of third-degree aggravated assault.
[FLASHBACK: Reality Show Sexpots: Kandi, Chrissy, Evelyn & Tamar Glam it Up for Photoshoot…]
Apparently Chrissy got into an altercation with a women in a bar, which resulted in her punching the victim in the face.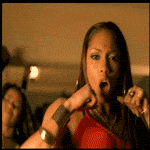 Details below…
Continue Reading…