Stevie J and Faith Evans want you to know they are madly in love. So much so that they did a whole video about their attraction for each other!
Let's talk about the visuals. Directed by Derek Blanks, "A Minute" creates a fly-on-the-wall image where the viewer is watching a day in the life of the newest music industry POWER COUPLE!
[READ: Off the Market!! ?Stevie J & Faith Evans Marry in Vegas]
The first half of the video is so steamy, I was wondering, "Is this still a music video or is it another one of Stevie J's sex tapes."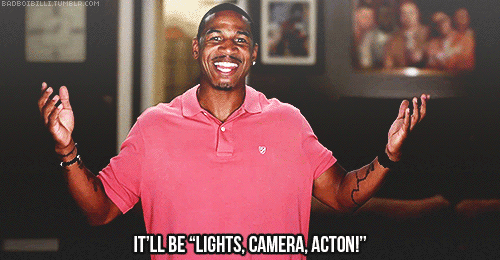 Details + video below…
The first few seconds of Stevie & Faith's "A Minute" shows the newlyweds in cringy love-dovey mode, pillow-fighting n' shit. But you get used to it.
The entire video is like like a steamy adult film. Stevie sings falsetto while motorboating and kissing Faith's breasts… the couple straddles each other under the covers… grindin' in the kitchen… shower together…. wrestling…. AND SIMULATING DEEP PENETRATING MISSIONARY SEX!
I guess the dopamine is still running rampant, hence the tatts…
[Newlyweds Stevie J. & Faith Evans Seal The Deal With Matching Tattoos? (PHOTOS)]
But I digress.
Check out the behind the scenes footage…
In the second half of the video, Stevie J is at the skrippa club donating to the clappaz and he pauses for 'a minute' to take a call from wifey. And Faith Evans is having a girls night in a club and she also takes a timeout to take a call from Steebie.
The video wraps with Faith and Stevie J sharing a kiss, shocking everybody in the room. A nod to how the rest of the world was surprised by the news of the nuptials.
Not mad at all. It's a nice love song with a '90s groove. We need more of that.
Lately, I've been thinking you could be my baby
Everybody thinking we're both crazy
You've crossed the line
So many times, but you've always been there for me
Black Love is alive y'all!
Let us know what you think in the comments.