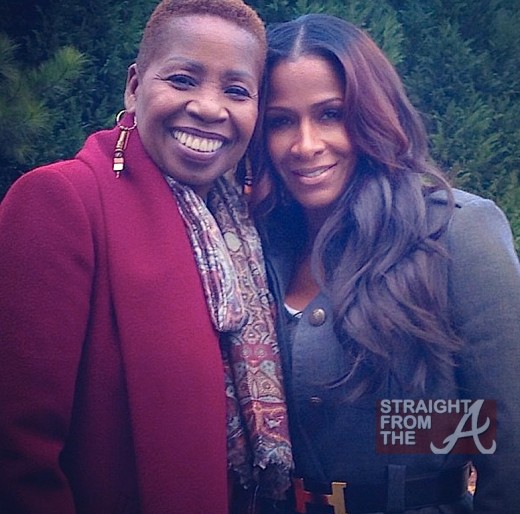 Iyanla Vanzant
recently took on the task of attempting to "fix" ex-RHOA
Sheree Whitfield
's relationship with her ex-husband former Falcons OL
Bob Whitfield
.
The divorced couple appeared on the 2nd episode of the 2nd season of 'Iyanla: Fix My Life' last night (April 20, 2013) to openly air their grievances with one another in an effort to move forward in co-parenting their two children, Kairo (16) and Kaleigh (13).
While Bob appeared forthcoming throughout the process, Sheree seemed unable to articulate a complete thought. Iyanla held no punches as she poked and prodded them both in an effort to reveal what was truly the underlying factor of their animosity.
[READ: EXCLUSIVE! Bob Whitfield Speaks About Fix My Life Appearance (VIDEO)]
I could do an in-depth analysis about how Sheree is delusional in claiming that the unfinished monstrosity known as Chateau Sheree is actually for her kids and why Bob feels that paying her child support was unnecessary… but I've already revealed those details over the years.
[FLASHBACK: The REAL Reason Sheree Wasn't Receiving Child Support For Over 4 Years… ]
I'm not here to beat that dead horse… I'll just let Iyanla (and Oprah) take over from where I left off.
Details + video of Bob & Sheree's Iyanla: Fix My Life Appearance below…
Reality TV star Sheree Whitfield has been building her dream mansion—Château Sheree—for years. Iyanla, who is in Atlanta to help Sheree and her ex-husband learn how to co-parent, believes the home represents how many parts of Sheree's life are incomplete.

Watch Iyanla's conversation with Sheree about her unfinished home, failed marriage and how everything in her life is interconnected in the video below…
VIDEO: What Chateau Sheree Really Means…

In a one-on-one session, Iyanla delves deep with Bob about his failed marriage and a time he saw his son, Kairo, following his example—one that Bob wishes he hadn't seen.

Find out what it was and watch as Bob expresses his love for his son in the following video…
VIDEO: How Bob Whitfield Saw Himself in His Son Kairo

Former Real Housewives of Atlanta star Sheree Whitfield and her ex-husband, retired NFL player Bob Whitfield, sit down with Iyanla to work through issues that are affecting their ability to be successful co-parents.

During Iyanla's conversation with the estranged couple, Bob comes clean about his true feelings for Sheree and reveals why he despised what she did on her reality show. Watch Sheree's response…
VIDEO: Bob Goes In on Sheree: "It's All About Sheree"…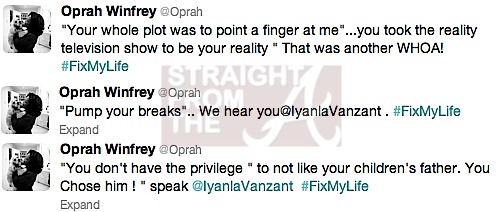 Divorced parents Sheree and Bob Whitfield admit that they don't love—or even like—each other anymore. For that reason, Iyanla says it's impossible for them to successfully co-parent at this time. Watch as she sets new ground rules for Sheree and Bob and explains how they're affecting their children.

Plus, why did Iyanla throw a "flag on the field"? Find out in the following video…
137 Comments
RSS feed for comments on this post.
Sorry, the comment form is closed at this time.