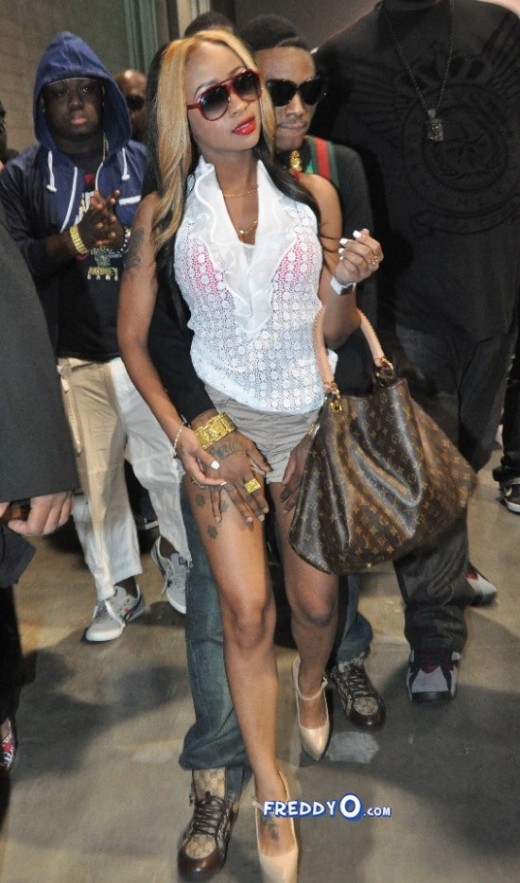 In hood news you may or may not care about…
Photographer FreddyO captured Diamond and Soulja Boy getting cozy at the DUB car show recently and and apparently that didn't sit too well with the mother of Diamond's ex-boo.
As you know… Diamond and Scrappy both lost their homes to foreclosure, and Miss31Flava's has been attempting to secure her financial future every since.
She even tried to latch on to Gucci Mane but that really didn't last too long…
[READ: Are Gucci & Scrappy Beefing Over Diamond?]
It takes a mom to see through all the bull and Lil Scrappy's mom, "Mama D" is totally calling Diamond out on her sh*t!  When asked how she felt about her son's former fiance' dating another Atlanta rapper, Mama D had a few choice words…
Okay, the b***h done got breast implants and booty shots, the b***h ain't real first of all. Secondly, Soulja boy is gonna come behind him anyway.

So at the end of the day Scrappy is chilling, he's fine, he's the Prince of the South and he got it good. He's living good and he ain't thinking about that b***h…dirty low down b***h.

She [Diamond] lied like a motherf*cker! Called Scrappy back, talmbout 'I was just hanging out with him'.

Whoooo! I wanna put my hand round that b*tch throat.
Audio: Lil Scrappy's Mom Goes OFF on Diamond…
I want you to go on the radio and say 'Mama D is angry because you don't mess with Mama D son!' But you know what ladies and gentlemen? Her son is doing good. The Prince of the South is still the reigning prince because he's chill like that, he's gonna keep it pimpin'.

It's f*cked up how she did it…low down dirty b*tch!

She's lucky I don't take her azz on the ave and pimp her a*s.  She gonna give it up like that, might as well get some money for it hoe.

Scrappy, Mama D, we gonna keep it G, ya heard me? Let the radio know that Scrappy the Prince of the South is still the reigning Prince and he's chilling on South Beach, OK? with a beautiful lady.

He ain't studdin' that sh*t there, he's all good.
Lil Scrappy called in later to respond to all the madness and he surprisingly managed to take the high road….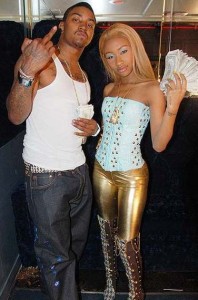 Y'all just gotta chill out…. at the end of the day when two people like each other, it ain't nothing you can do about it.

I've been kickin it with her for a minute and we both been openly dating.

Shawty gotta get her money! Ya feel me. And however Shawty gotta get her money she gotta get it. And Shawty is Young. She gotta get it. The world can't judge her, just like they can't judge me.

But when he kissed her…in those pictures you saw on the web. Well… I don't know what to say.

But from what I heard it wasn't nothing…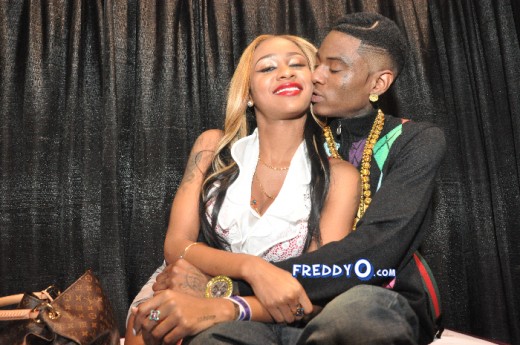 [Sidebar: Soulja Boy with his 2pac (circa Bishop) high top fade is cracking me up! He's really taking that "Juice" remake seriously I see…]
Family's fighting and arguing over this mess! I swear this sh*t is playing out like a ghetto "A"zz Romeo and Juliet…
Am I the only one hoping to hear a response from Soulja Boy's moms??