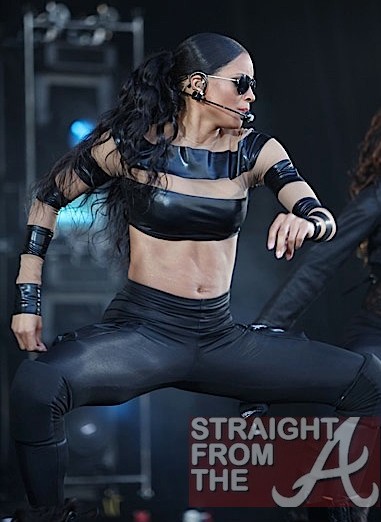 Ciara was spotted at the Sydney Supafest Music Festival at ANZ Stadium in Sydney, Australia last weekend (April 9, 2011) where she performed a few of her classics.
Ciara may catch a ton of flack but she's obtained a prime position as the only African-American woman to make People Magazine's 2011 "Most Beautiful" list!
When Kim Kardashian's BFF isn't charting hits like "Love Sex Magic" (featuring Justin Timberlake) and "Ride" (featuring Ludacris), she's modeling for Wilhemina. But her approach to beauty is surprisingly simple: "Being beautiful is all in the attitude," she tells PEOPLE. "It's about confidence." (source)
CiCi landed at the #23 spot…. and she didn't even have to show her "Goodies"! Take notes Keri…
Click HERE for the full list.
*Update 4/13/11 5:25pm* : One of my loyal readers was kind enough to correct me. Ciara is NOT the only African-American woman on the list…
FYI – Ciara is not the only African American….

Sneak Peek of the list shows Jennifer Hudson as well. The full list is not on the site.

Signed,

Faithful Reader
Thank's for the clarification!
Photos: WireImage
In case you missed it:
Could Ciara Be The Next "Basketball Wife" ?
Is Ciara Throwing Shade?
Ciara Models for French Vogue… [PHOTOS]
So Ciara's a "Butt Model" Now? (Maxim Magazine Photos)
Ciara Rocks Sprite Step-Off Stage… [VIDEO]