'Mary Jane' aka Kirk Frost's
Love & Hip Hop Atlanta
"side chick" is on a promo tour to clear up rumors and inconsistencies concerning her recent appearance on the popular hood drama.
[RECAP: 5 Life Lessons Revealed on LHHATL S2 Ep11 + Watch Full Episode…]
I caught up with the infamous Mary Jane (real name Alexis Miller) and we had a lil one on one chat about her penchant for married men (#NeverForget that scandalous Shaquille O'Neal situation).
While the aspiring rapper skirted around the Shaq issue during our interview, she was open about her 'friendship' with Kirk Frost and revealed they spent the weekend together a few weekends ago (but claims she had no idea Kirk and Rasheeda were together last weekend during the BET Awards).
Mary Jane is NOT ashamed of who she is and what she's done and says that she's not interested in taking husbands because she's not tryna be a wife…. just a 'mistress'.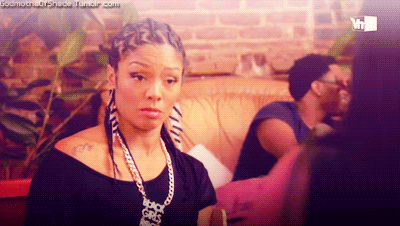 Ummm…. yeah. Mary Jane's definitely NOT ashamed. Anywhoo… check out video of our interview PLUS my thoughts under the cut…
VIDEO: One on One with Mary Jane…
Mary Jane will be back on Love & Hip Hop again this week and from what I understand… the "relationship" between she and Rasheeda's husband, Kirk Frost will be on and poppin.So much so… that their interaction on air is what sparked those pregnancy rumors.
[READ: Meet Mary Jane… Kirk Frost's #LHHATL Jump Off (She's NOT Pregnant)]
I honestly think that all of this is an elaborate set up for Mary Jane's next project, Mickey 'MempHitz' Wright's "Real Mistresses of Atlanta" reality show trailer (click HERE to watch).
Here's the thing… I still don't buy what Kirk and Rasheeda are selling but I'm not one to knock anyone's hustle.
[READ: Rasheeda & Kirk Separated? Don't Believe the Hype… ]
As far as Mary Jane is concerned, in our interview she said that LHHATL was "based" on real life experiences… and I totally get it. Married people have problems… married men cheat… married people make up… and the 'mistress' moves on to her next victim.
Great plot!
I'm sure we'll see more of it when "Real Mistresses of Atlanta" hits airwaves.
[Sidebar: I HEARD it's already been picked up by Oxygen. So stay tuned.]
In the meantime… I guess the hoe's really are winning. 😯
What do you think about what Mary Jane had to say?
Video: Chris Mitchell/CME3000
Photos: Chris Mitchell/CME3000 + Instagram