As you know, just a few days ago Shad Moss aka Lil Bow Wow was hacked. The rapper was then "outed" online by a wannabe rapper…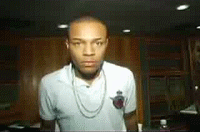 Bow Wow was understandably perturbed by the situation, but it was all so bizarre that we began questioning if it was actually Bow Wow doing it all himself for the attention.
[READ: In the Tweets: Did Bow Wow HACK Himself? *SCREENSHOTS*]
The drama all began when the photo above was posted online. Then it was believed that the user hacked Bow Wow?s Twitter as a way to extort money from him and to gain exposure for the wannabe rapper?s mixtape.
Well at least ONE mystery has been solved.? I know who's in the photo and guess what? It's not photoshopped at all!
I received an email one of the men in the photo after several of his friends told him he was on StraightfromtheA the other day…
After spotting his cute mug online, PrestonE sent me the following email:
Is it possible to like speak to you about clearing up this bow wow picture frenzy.

That's actually a picture of myself and my boyfriend. You can check out our twitters and instagrams @imtheprettiestp and @sincerelycb.
*sigh* Sometimes I wish I were a gay man, they get all the cuties!? But I digress…
Preston goes on to explain how the intimate photo of he and his boo got online in the first place, stating:
I posted the picture around Christmas of last year via twitter. It's of myself and my boyfriend. Around that time some people made a fake twitter using the picture I believe it's @mymanp.

As to how the I am 7 guy or whatever his twitter name is found it–I have no clue. But to be honest the picture has absolutely nothing to do with bow wow. If you go on my twitter and look at the images posted section you'll be able to see when the picture was actually posted up.
I requested a few photos from Preston as proof and he obliged by sending over the one above and a few more of he and his boyfriend.
While his boo looks absolutely NOTHING like Bow Wow, I can almost see how one could take the similarities and run with 'em.
Hey cutie 🙂
Anywhoo… at least we've solved the mystery of the "photoshopped" picture. Most of you didn't believe it was him anyway, but for the one's who did…find something else.
Shouts out to PrestonE for clearing up the drama!