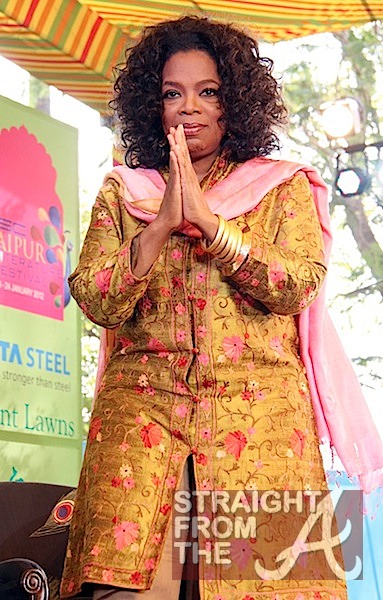 Oprah Winfrey has sparked a ton of controversy with her latest ?Oprah?s Next Chapter? segment.
Things didn't go so well when the media mogul was in India a few months back taping the show, and now that it's aired, she reportedly has the entire South Asian country up in arms.
[READ: Oprah's Bodyguards Arrested in India – PHOTOS]
The people of India are offended at how Miss O. portrayed the country and it's residents on the show:
The smell of incense (tick), the sari fitting (tick), the aspirations of slum dwellers (tick), and the glitz of Bollywood (tick). Let?s not forget arranged marriages and the fact that Indians, even rich ones, ?still? eat with their hands (tick, tick).

India as Westerners imagine it, one stereotype at a time.
Not good… not good at all!
Details below…According to Bossip:
Oprah is really striking out with the brown folk…? First she lost her black audience when she started catering to the white stay at home moms and now the Indian ladies are pissed she?s acting too good to eat with her hands!
The show aired this past weekend and many in India responded to the two India-focused episodes with shock & awe.
The Wall Street Journal in India reports that Oprah got thumbs down across the board for her portrayal of the country, referring to the show as "Oprah?s slum tour".
In India, the people she interacted with ranged from a family of five living in a 10-foot-by-10-foot room in a Mumbai slum, to Bollywood aristocracy, Aishwarya Rai and Abhishek Bachchan.

While her show mainly targets a mainstream American audience, many criticized Ms. Winfrey for choosing to project such a caricaturized image of India to the world.

?The avg American thinking of India as a place with snake charmers and elephants as main mode of transport, I can understand. But Oprah???? said user Nandita Iyer on Twitter.

?Honestly, this Oprah winfrey has made such a royal fool of herself with this,? she added.

?An unflattering, outmoded, selective and clich?d representation? of India, is how one commentator, Gargi Gupta, described the first episode of the television show.

Camera shots of ?roadside cows chomping on garbage and roads choked with traffic,? are just some aspects of the show that Ms. Gupta said may make Indian viewers ?groan.?

The show wasn?t a complete write-off for Ms. Gupta, however. She found Ms. Winfrey?s approach tactful when she asked slum dwellers about their hopes and fears. ?It suggests a respect for human sensitivities that television anchors in India? would do well to learn,? she writes in a piece published in the Business Standard.

Not all were so kind.

For Rajyasree Sen, the show didn?t have a single redeeming feature.

?Myopic, unaware, ignorant and gauche. This was Middle America at its best worst,? wrote Ms. Sen of the show?s first episode in a column on Firstpost.

She found Ms. Winfrey?s comment on Indians still eating with their hands particularly offensive. ?I don?t know what people in America are eating their hot dogs, pizzas and tacos with but perhaps Oprah?s home has evolved cutlery for all that,? she writes.

Many on Twitter agreed. ?You still eat with your hands? ? The shocking arrogance of a clueless rich woman,? wrote Aseem Chhabra.
I didn't catch the episode but I don't think Queen O would intentionally stereotype an entire culture. She may be rich as hell but she's still a Black woman and Lord knows in today's age of Reality Show coonery, us Black women are the biggest victims of cultural stereotypes today.
But I digress…
Do you think Oprah was out of line? Were you offended by the show?