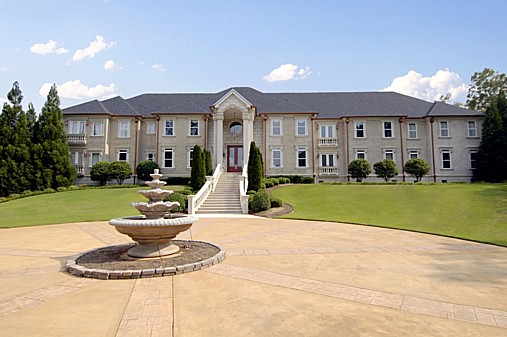 Tyler Perry's Fairburn, Georgia mansion has been on the market for quite some time now…but don't fret! It could be yours for a little less than $3.7 million dollars. The home, featured in TP's first feature film, "Diary of a Mad Black Woman," was vacated a while back due to his lack of privacy after all you ATLiens found out the address and started doing drive-bys in the middle of the night. Tyler wants out, so he's reduced the price so that one of you mini-ballers can live the fabulous life:
Click Here to view full listing.
That same description sold me on my first home….well, minus the 6 bedrooms and 6.5 baths…and the theatre, study and pool. Actually, the only line that sold me was the "minutes from the airport" part, I had no idea that "minutes from the airport" would mean "hours to work"….but you live and you learn. *shrugs*  Imagine…I traded all that to be near a Dillards and to fight crackheads over my mail.  The travesty!

DMX's home is also on the market…and is selling for a lot less, partially because it was raided by the police (they blew off the front door) and has since been ransacked by thieves.
The foreclosed Phoenix, AZ home of the embattled rapper was purchased for over $600,000 and is now being sold at $429,900. Offers are only being accepted through Tuesday, January 6th, so ummmm if you're in the market…check out a few flix and a tour of his crib under the cut: Continue Reading…