Singer
Keri Hilson
's Thanksgiving holiday was marred by a slew of hateful twitter roasts after the following manufactured tweet appeared online.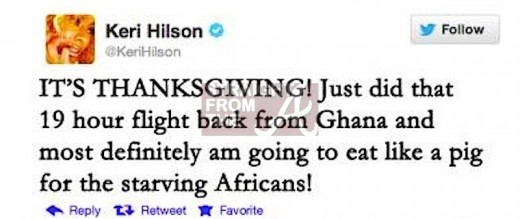 The tweet was created by someone banking on the fact that Hilson has said some rather dumb things online in the past… like THIS… and especially THIS.
The tweet was never posted and could not be found on Hilson's timeline. It was soon discovered that it was created as a spoof, however several blogs had already picked it up.
Hilson woke up Thanksgiving morning being roasted (yet again) for her insensitivity. Continue Reading…