BRAVO recently released a sneak peak of season six of The Real Housewives of Atlanta and it looks like Porsha and Kordell Stewart's divorce drama will be front & center.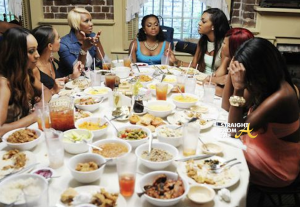 Phaedra Parks gives birth, Kandi Burruss' relationship with Todd is being questioned by Mama Joyce,  Porsha Stewart is insinuating her soon to be ex (Kordell Stewart) doesn't like women, Kenya Moore gets evicted on camera (just like I told y'all), Cynthia battles being the mother of a teen girl, and Nene Leakes goes back to her roots and gets confrontational.
We may have to wait a few episodes before 'newbie' Mynique Smith is introduced… but she's coming, trust.
[READ: Mynique Smith Joining RHOA Season 6… (PHOTOS)]
The ladies have been hard at work filming the upcoming season in addition to various other projects, but from what we've seen thus far, this season may just top them all.
Check out the sneak peek trailer + a few new photos under the cut… Continue Reading…