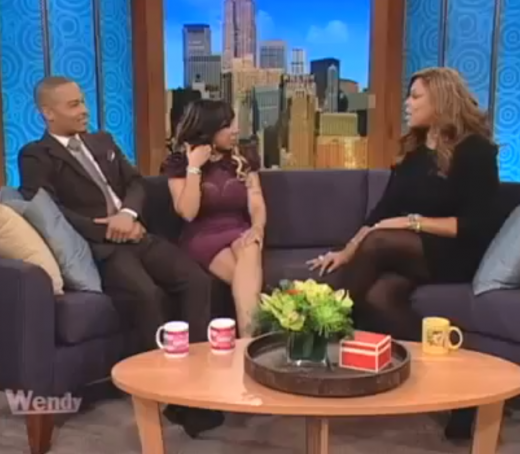 Clifford "T.I." Harris and his wife Tameka "Tiny" Cottle hit up The Wendy Williams Show this morning to promote their upcoming VH1 reality show, which airs next Monday (December 5, 2011 at 9pm EST)
[WATCH: Sneak Peek: T.I. and Tiny: The Family Hustle ~ VIDEO]
Wendy attempted to bring up old sh*t, asking about last year's drug arrest, but Tip promptly shut her down. Not once… not twice… but over and over again.
The talk show host was persistent though, and switch things up to ask Tiny ow she felt about 50 Cent saying Tiny shoulda took the rap.
That's when Tip intervened…. cutting Tiny off like… 'naw boo, I got this':
Oh my God…. I've already been very vocal about how I felt as it pertains to that. I've already had a conversation with Fif and… we now have a concise understanding.

You know what Wendy… we've moved on.
It was quite awkward… but you'll have to watch it and judge for yourself.
In case you missed it, watch T.I. and Tiny's interview + Wendy's after show take on it below… Continue Reading…