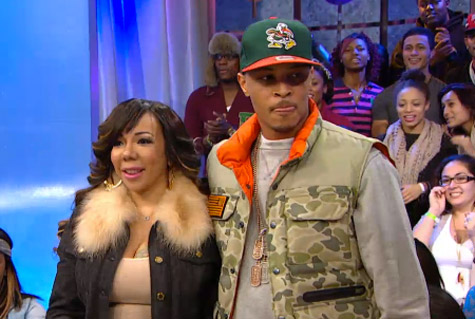 Clifford "T.I." Harris and his wife Tameka "Tiny" Harris  paid a visit to BET's 106th & Park yesterday evening (February 1, 2012) during the show's tribute to the legendary Soul Train founder, Don Cornelius.
The couple, often referred to as hiphop's version of The Cosby's, reflected on the life of Cornelius and the impact Soul Train had on African-American music.
[DISCUSS: Is T.I.'s "Family Hustle" This Generations' "The Cosby Show"?]
Host Rocsi noted that without Soul Train there would be no 106 & Park, while Tip pointed out how important the show was in Black culture.
"For me, it was about him creating a platform for us to be able to see ourselves," explained Tip.

"Every Saturday morning after cartoons went off, I was waiting and hoping Run-DMC or somebody was on there. If not for him, we wouldn't have had that. And not just my generation, but generations before me."
Tiny also reminiscences about appearing on Soul Train when she was with Xscape AND the couple spoke on rumors that they have a bun in the oven.
Video + more photos below… Continue Reading…