Legendary filmmaker Spike Lee is not one for holding his tongue…. just ask Tyler Perry!
[READ: Word to the Wise. Don't Ask Spike Lee About Tyler Perry... ]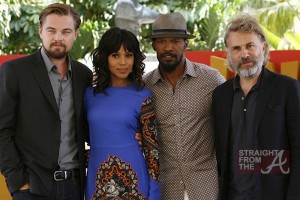 Prior to the release of Django Unchained, Lee gave his word to Django's lead character, Jamie Foxx, that he wouldn't go in on the flick.
[READ: "Django Unchained" Review + Atlanta Celebs Attend Pre-Screening... (PHOTOS)]
Foxx even spoke of their conversation in a recent interview, stating:
"You know Spike, he'll let you have it whether it's good, bad or ugly. And he said, 'I'm not going to say anything bad about this film. It looks like y'all are getting it.'"
Well… scratch all that!
Spike apparently feels some kinda way about the film now and is now calling Quentin Tarantino's latest creation, "disrespectful".
Details below… Continue Reading…