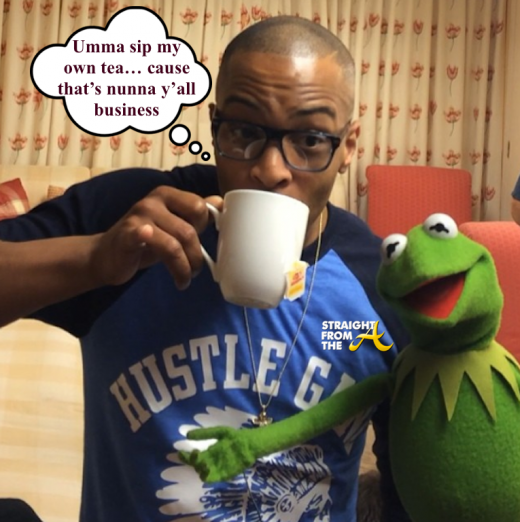 Clifford 'T.I.' Harris posted the hilarious photo above as he poked fun at everyone's concern with his marital drama, stating:
Summa y'all #mediocres more worried bout my goings on than u is about ya own…. But that ain't none of my business so…..I'll just #SipTeaForKermit #ifitaintaboutdamoney #2sugarsplease
The popular entertainer appeared on 'The View' earlier this week to promote his upcoming album but he was also asked about the drama surrounding his 'troubled marriage' to wife Tameka "Tiny" Harris.
When asked about his private affairs, Tip remained cool as a cucumber and revealed that it ain't over yet. Departing host Sherri Shepphard asks about 'trouble in paradise' and T.I. reponds:
What that mean? As long as they say there is trouble in paradise because trouble is inevitable, but it's okay as long as the word 'paradise' is still there.

Watch video of Tip's 'The View' interview below…
Continue Reading…