Kap G wrote released the song "Fuck La Policia," last year but it's message resonates now in light of several questionable deaths at the hands of police officers.
The song was released months before the murders of Michael Brown and Eric Garner, but it's a reminder that abuse of power, and the toxic hurt that follows it, are nothing new.
I wrote this song two years ago, out of frustration from being pulled over for no reason after leaving a studio session. I didn?t think much about who would hear this song when I recorded it, I just knew that this feeling was too painful and demeaning to not speak on it.

I felt, as a young Mexican American writer, artist, and youngin, that it was my responsibility to give a voice to this feeling that sooo many young minorities were dealing with.
Rappers T.I. and David Banner joined Kap for a remix of the song, now shortened to "La Policia," which was released earlier today (April 9, 2015).
Their version calls attention to how Kap's original was no less relatable because it came from a specifically Mexican-American perspective?learning too early to fear cops is an experience too many people of color in America share.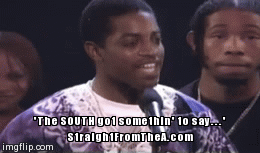 Listen to Kap G's 'La Policia' Remix ft. T.I. & David Banner below… Continue Reading…