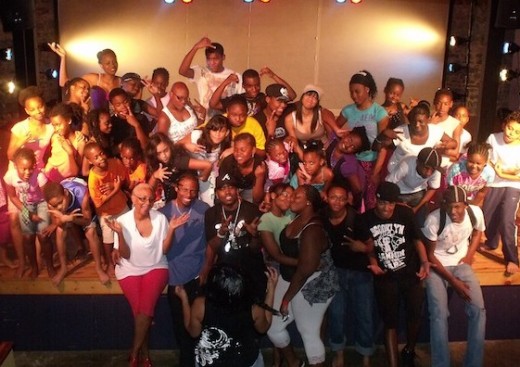 Antwan "Big Boi" Patton has been promoting his new album, Sir Lucious Leftfoot: Son of Chico Dusty (in stores NOW!) from here to Norway but he never forgets about the kids!
After a successful charity fundraiser for his Big Kidz Foundation back in July,  Twan put those dollars to work by sponsoring a summer camp for Atlanta's Youth.
[PHOTOS/VIDEO: Big Boi's Big Kidz Foundation "Art For Life" Celebrity Fundraiser]
The Big Kidz Foundation partnered with Moving In The Spirit for the 2nd year to implement a innovative summer program entitled "Rhyme and Reason".
Moving In The Spirit is an Atlanta based art non-profit organization that produces art based programs designed to bring young people in urban communities together. The kids who participated in the two-week program were taught effective presentations skills, self-confidence, as well as enhance their dance abilities.
Big Boi paid a special visit to the camp Thursday, August 5, 2010 and was honored with a special performance by the camp participants.
Video ~ Little "Big Kidz" Perform for Big Boi
Those kids were crunk! How cute is that!!  More photos + video below: Continue Reading…