Kandi Burruss-Tucker of The Real Housewives of Atlanta held a private "Dinner with Kandi" event last night (11/19/15) relaunch her label, Kandi Koated Entertainment.
[FLASHBACK: One on One w/Kandi: Spin-Offs, Xscape Reunion, Nene Beef & More (VIDEO)]
As you know, Kandi a Grammy award winning singer/songwriter and she was responsible for some of pop music's biggest hits.  The talented 'housewife' helped launch Destiny's Child career with her song, "Bug-A-Boo" while TLC's "No Scrubs" took them to higher heights as well.
In honor of the relaunch, Kandi introduced two new groups to the world: Glamour, a 3-girl R&B group and Loud, a multi-cultural/multi-genre teen Pop Group.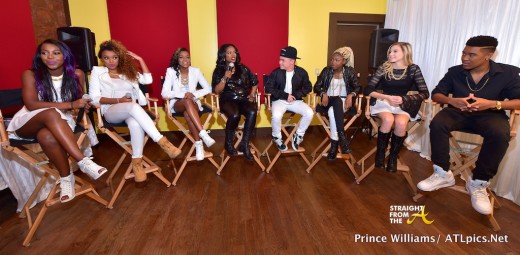 [Sidebar: Kandi may be 100 months pregnant, but that certainly won't stop her hustle!]
Check out photos from the event below… Continue Reading…