Kandi Burruss of The Real Housewives of Atlanta is on a mission to help feed the needy.
While the entrepreneur busy with her annual philanthropic efforts this holiday season, she's been sure to include lending a hand to the unemployed.
I was first to reveal that Kenya Moore's peach got snatched after her season 10 story line fell flat (click HERE if you missed that), but the former beauty queen tried to keep a brave face for the fans.
[FLASHBACK: Kenya Moore Wants You To Know It's 'ALL or NOTHING' When It Comes To Her Peach… ]
Moore finally has an ally in her corner as she's faced with a new mouth to feed with infant daughter Brooklyn Daly and mounting federal tax liens.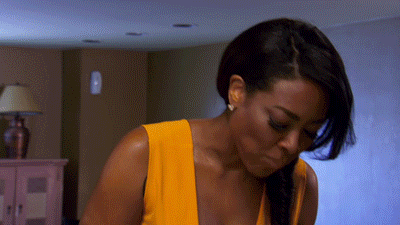 Hallelujah!
Details + video below…
Who knew Kandi and Kenya were so tight?? The self-made entrepreneur has been going ?ber hard for former beauty queen lately.? Burruss tells Jenny McCarthy in a recent interview that Moore was great for the show because she was the one person who "always called people out on their bs"… i.e. she was the messy one!
When McCarthy asks how difficult it was to work with the former antagonist, Kandi admits, "I get along with her… so that's not a good question to ask me." She continues:
The thing about Kenya is she's not gonna let sh*t slide… in addition to that, she's gonna give her 2 cents.
While this season seems to be about sisterhood and love & light, Kandi is apparently reflecting on the good ol' days when Kenya would flirt with husband's (Apollo Nida) or insinuate that they were gay (Kordell Steward/Christopher Morgan).
McCarthy apparently agrees that Kenya is nothing but trouble, stating:
She's a good fighter. In terms of finding those opportunities, she definitely knows where her part is in that.
Whatever the case, after seeing the interview I felt compelled to comment…
But I digress.
While supporting her new BFF was a major part of the interview, Kandi also managed to discuss the current season of the popular reality show. Topics included
…how she knows Porsha?s new boyfriend, trying to produce a show for Marlo, feeling respect for her accomplishments with Xscape, setting the record straight on some incorrect reports about her family, and her desire to have another baby through a gestational carrier.
Bonus Tea:
Regarding Porsha's boyfriend: Kandi admits that she wasn't the best person to bring her former nemesis bad news about her relationship with Dennis McKinnley and that Porsha actually told her she didn't want to know.
I don't know if she didn't want to know, or she just didn't want to know from me.
Regarding Marlo's reality show: Kandi reveals that it was the "talent" that ruined the opportunity. She states the show was picked up but people weren't showing up for tapings, etc.
"I don't want to put the blame on anyone but basically the talent was being a little difficult with getting things done and they weren't getting things done by a deadline"
[Sidebar: I've got exclusive deets on that situation but that's a whole 'nother post!!? I'll discuss it via video soon so make sure you SUBSCRIBE to my YouTube channel for that tea.]
What are your thoughts about Kandi's recent interview?
Are you surprised that Kandi's riding so hard for Kenya?