NEWFLASH!!! There's finally some "music" coming out of Love & Hip Hop Atlanta!
Yup… you read right. Karlie Redd, one of the mainstays of the popular docu-series has hit the studio and has concocted a brand new single called "Ferrari Karlie".
[FLASHBACK: Everything You Ever Wanted To Know About Karlie Redd (Age, Daughter, Baby Daddy & More)… ]
The aging reality star is still rappin, but she's come a long way from 'Gucci, Louie, Prada'.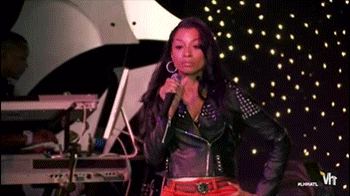 Check out the video for Karlie's new single below…

In the track, Karlie Redd raps about the same thing everybody else raps about… 'getting money!' In a Nicki Minaj-esque cadence, the reality star boasts:
Don't communicate with bitches that don't wanna get their bread up //
cause they wrapped around these niggas they "fed up" //
Shout out bitches getting money, get ya bread up //
Even if they getting money with ya legs up //
Now that you've experienced "Ferrari Karlie", tell us what you think about it in the comments.
Is "Ferrari Karlie" a go or is it a no?