Sheree Whitfield of The Real Housewives of Atlanta and her moldy Chateau are in the news again this week.? First and foremost she's released a new 'tour' of her unlivable abode, which has been released just when she's being outed by her insurance company.
I'm sure you've read by now about the many contractors who have filed liens on the construction project, but it's now being revealed that Sheree has had a very lucrative song and dance going on with her insurance company, who has paid almost $400k in claims to date!
Well, 'the bone collector' is clearly all about re-collecting the coinz she's lost on her real estate investment, so she's suing her insurance company (again) to recoup some more dough!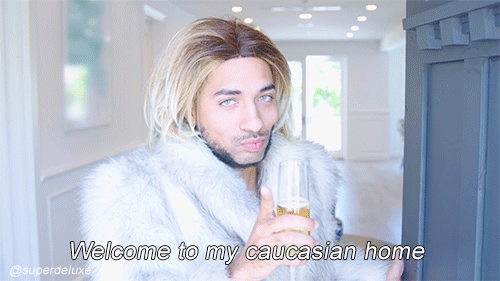 Details about Sheree's insurance scam lawsuit + check out her latest Chateau Sheree home tour below…
The post was originally supposed to be about Sheree's newly released sneak peek of the Chateau, but I find her insurance scam a bit more intriguing.
We'll get to the house tour in a bit… but first let's discuss Sheree's insurance 'come up'!
If you recall, Sheree filed a lawsuit last year against Central Mutual Insurance company, claiming that water damage from a leak back in 2014 had created a "mold and decay" problem in her infamous dream home, Chateau Sheree after the home was left in a wet condition for over 3 weeks. (click HERE if you missed that).
Well, they're still battling over the dough but apparently Sheree has already been paid quite handsomely by the company over the years (at least according to court documents).
While Sheree is going around saying she's living in the home, it seems she's the real homeless 'housewife' filed recent documents claiming that the insurance company unfairly appraised the damage and it's actually going to take way more time and money to 'fix' the damages and make the home livable.
In her latest complaint, Sheree says her appraiser and the insurance company?s appraiser did not see eye to eye on the damages and were unable to reach an equitable determination.
Whitfield claims:
the Umpire hired ?failed/refused? to evaluate the submitted damages by Plaintiff?s appraiser as anticipated by the policy.

?The Umpire wrongfully became involved throughout the appraisal process instead of dealing with only ?differences? as required by the policy.?

?These acts resulted in an unfair conclusion to the appraisal as to the amount of the loss.?
Sheree is asking for $279,940.56 and a jury trial.
Meanwhile, in Central Mutual Insurance?s response they claim Sheree filed the claim too late and that they have already paid her several hundreds of thousands of dollars in claims!
?an impartial Umpire and an appraiser? reached the award and that the appraisal award was untimely filed.

They claim to have already paid Whitfield $359,156.20 and ask the case be dismissed.
Ok… so correct me if I'm wrong, but with the amount of money Sheree has gotten from her insurance company THUS far, that house should have been finished years ago!
I wrote this entire post just to say… Sheree is still flossing like she lives in Chateau "Mold & Decay" and even released a video today offering a sneak peek tour…
VIDEO: Sheree Whitfield Shares Look Inside Chateau Sheree
I can't resist… this video reminds me so much of Joanne the Scammer's house tour…

VIDEO: Joanne the Scammer – Welcome to My Caucasian Home
For the record, Sheree is actually still chillin in an apartment in Alpharetta (but you ain't heard that from me).
What do you think of Sheree's Chateau Insurance 'Come Up'?