Being Mary Jane
returned for it's 3rd season with a BANG… literally!
The popular scripted series picked up where it left off during the season 2 finale as news anchor Mary Jane Paul (Gabrielle Union), is in a horrible car accident sparked by the astounding butt dial of her former flame, David Paulk (Stephen Bishop).
[READ: 'All Disposable Everything' – Being Mary Jane Season 2 Finale Recap]
If you recall, David's butt dial revealed to Mary Jane that he and her bestie, Lisa Hudson, had been way more involved than they should have been for God knows how long.
The news of their betrayal is almost a moot point during episode 1 of the season 3 premiere as Mary Jane recovers from her injuries from the crash.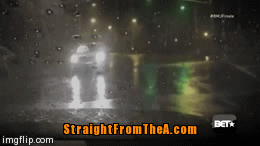 Recap + watch video below…
VIDEO: Being Mary Jane Season 3, Ep 1
Being Un/Under Insured > Mary Jane's Face: Introducing C.C…..
During the first episode of Being Mary Jane's 3rd season, Mary Jane is rushed to the hospital after suffering severe facial injuries resulting from her car crash.
Everyone at the hospital seems to be doing everything they can for SNC's star news anchor, but are sadly ignoring the other victim of the crash, an older woman by the name of C.C. (Loretta Devine), who is left out in the hallway with her injuries because she's uninsured.
Our hearts immediately go out for this new character, she's alone… injured through no fault of her own… and faced with a looming hospital bill. Even though Mary Jane is suffering from devastating injuries herself, she finds time to visit C.C. and apologize for her role in their accident.
During their visit, Mary Jane finds out that C.C. isn't getting proper treatment due to her lack of insurance when she reveals that she's been waiting for tests that will probably never come.
It's a sad situation faced by millions of lower income Americans and as an Anchor, Mary Jane is fully aware. Her heart goes out to C.C. and when she's discharged, Mary Jane graciously leaves the woman a $3,000 check.
David exits stage left…
Due to her facial injuries, MJ is forced to take time off from work to heal but she's gotten work from the best plastic surgeon and with time, she'll be back to normal.
In the meantime, she has to deal with what she heard during David's butt dial and now both Lisa and David have to face the consequences of Mary Jane (and her family) knowing the truth. The pair have been in Mary Jane's life for quite some time… Lisa has been her friend since childhood and David was boyfriend all through college.
David promptly disappears from the episode after Mary Jane's dad (Richard Roundtree) confronts him about what Mary Jane heard during the accidental phone call that sparked the accident. When David admits it's 'really bad' and that he betrayed Mary Jane with her Best Friend, he gets a good ol' fashioned fist to the jaw and is told to leave the hospital.
That's the last we've seen of David thus far and Mary Jane gets the following revelation during an intimate talk with her little brother:
"When everything has come easily to a man, the last thing he knows how to do is fight for a difficult woman."
VIDEO: Being Mary Jane (Season 3, Episode 2)
Lisa Was Never a real 'Friend'… Duh!
Mary Jane's BFF Lisa is close to MJ?s family since she does not have her own and if you recall, she battled depression during season 2 and faced the fact that she was in love with David. (Lisa was on a quest to tell MJ the truth at the end of the season but both Valerie and David cautioned her to leave the past behind to avoid hurting MJ.)
She's also the one who told David about Mary Jane hoarding his sperm in the refrigerator. Whatever the case, Dr. Lisa has always been a closet hater and as we all know, it's normally the one's who are closest to you that will stab you in the back!
When Lisa finally FORCES Mary Jane to speak with her, she gets the shock of her life when her former friend 'apologizes' for all her wrongs… like inviting her to be a 3rd wheel on dates with David, including her in her family functions because she had no family… it's a lot!
Lisa and Mary Jane's friendship may not ever recover from this, but who knows… stranger things have happened.
Extortion plot with a twist…
We were introduced to C.C. during episode one and our hearts went out to the lonely woman with no insurance, right??
Well apparently C.C. isn't a stranger to the game and she seizes this opportunity as her new 'blessing'! Mary Jane was found to have had alcohol in her system during the accident and her employer meets with C.C. to avoid facing a lawsuit.
After securing a check from Mary Jane's employer for $100,000, C.C. is on a mission to add more to her growing bank account, so she visits Mary Jane's home with a proposition… give her $25,000 or she will 'leak' Mary Jane's test results to the media.
This can't be good! Mary Jane is already faced with a disfigured face, the last thing she needs is the world knowing she's got a drinking problem!
But Mary Jane Paul is not one to be strong armed! She's got a whole lot on her plate right now, and she's not willing to add another… but she may not have a choice!
While the pair seem to 'bond' while discussing the writings of W.E.B. Dubois, it's clear that C.C. is not going away without a check.
Mary Jane's
Mary Jane 'Faces' Her Career Issues…
Mary Jane was already skating on thin ice last season with her position at SNC but her 'ugly Black woman' rant saved her position when ratings increased.
Whatever the case, the timing of the accident couldn't have been worse! Now Mary Jane is faced with possibly being scarred for life and that's not a good thing for tv news anchor.
As she recovers from her injuries, she finds out that SNC is looking to hire her 'replacement'… albeit a temporary one (but we all know once a younger, fresher, prettier replacement gets her foot in the door, Mary Jane will probably get the boot!)
Whatever the case, Mary Jane seems to recover at the speed of light and while she's still facing a ton of family issues & extortion drama, Mary Jane manages to get it all together and proves she's 'Unbreakable'!
Will Mary Jane ever 'face' David?? Will she forgive her BFF for her betrayal? Will she pay C.C. for her silence? Hmmmm… this season is a whole lot already, and I LOVE IT!
In the final scene of the 2nd episode, Mary Jane gets dressed and steps into the office with 'Boss Ass B*tch' playing as her new theme song. She seems ready for war, but we'll have to wait til next week to see more of her 'comeback.'
What did you think of the season 3 premiere of Being With Mary Jane?