NEWSFLASH! One of the members of the legendary rap group Goodie Mob is reportedly broke & facing foreclosure.
[FLASHBACK: Goodie Mob Members Host MARTA Bus Tour… (PHOTOS + VIDEO)]
And we all know it ain't Cee-Lo Green…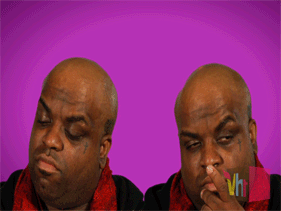 Details about the latest Atlanta area celeb facing foreclosure below…
According to TMZ, it's Khujo Goodie who could be homeless soon…
Goodie Mob rapper Khujo, his wife, and 4 sons are on the verge of homelessness … after the bank filed papers to foreclose on his Georgia house.

According to the docs … the bank claims Khujo's missed 3 mortgage payments in a row and remains on the hook for more than $200K … so now they're looking to take it back.

Khujo filed for bankruptcy 2 years ago, claiming he had just $300 in cash … and was drowning in $170K in debt.

He earns just over a grand a month from royalties and the occasional performances … in addition to disability checks … he lost a leg in a 2002 car accident.
Welp… Khujo is only 3 months behind.
Hopefully his Dungeon Family brethren will band together to help him out of this sticky situation but you can do your part by picking up a copy of Khujo's self published autobiography, Straight Out the "A"
(no affiliation to Straight FROM the A), which is available on Amazon.
Born Willie E. Knighton Jr, I rose from out the red clay of Georgia. I live a life that still takes me on journeys everyday still not knowing where I might end up. I can honestly say that I have had my fair share of trials and tribulations where the blame was truly on me.

I gained my notoriety from being First Generation Dungeon Family and rocking the Hip-Hop mainstream with the musical Group Goodie Mob back in the 90s. My life has always been in motion; therefore I will move you whether its through my life stories, or my music.

The Story of my life will appease the mind of any human being that needs inspiration, motivation, or a whole new life concentration. My autobiography will take you through all of the successes of my life and through all the trenches for which I still maintain and overcome through this day. From rocking sold out shows with a major label, to rocking shows on my own dime independently, I take you on this journey for which I have lived, and survived to share. It?s time to show the world what the Dirty South is built on! Straight out the ?A?!
CLICK HERE for purchase information for Khujo's book.
What do you think about this latest Atlanta area foreclosure news?