?Nene Leakes' wedding spin-off is nearing it's end as the 6th episode of 'I Dream of Nene: The Wedding' aired last night (October 22, 2013).
As expected, Nene's nine 'Bride-maids' are still going at it, but this time the ladies have the sandy beaches of Cancun, Mexico as the surroundings for Nene's bachelorette weekend.
[FLASHBACK: Nene & Friends Do Cancun… (PHOTOS)]
Diana Gowins coordinates a heartfelt bachelorette ?blue? party for her friend, asking all the ladies to wear blue to allow the bride to stand out in the group, but Marlo Hampton opts out and wears a colorful designer dress instead.
Hampton emotionally explains that she wore the dress because she didn't have a mom or a dad. *sigh*
[FLASBHACK: Crazy "A"zz Marlo Explains How Designer Clothes Replace Family… ]
Marlo gets the side-eye from just about everyone in the group. They all feel Marlo was wrong for trying steal the focus from the bride and her actions leave NeNe wondering if her BFF (aka 'The Opportunist') would try to do the same on her wedding day.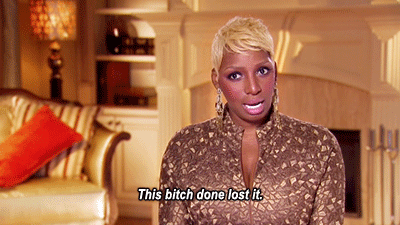 Details + watch full episode below…
The ladies all seem to be getting along in Cancun and Diana and Marlo are at least tolerating each other.
Everything was going smoothly during Nene's bachelorette weekend until Marlo decided to 'buck the system' during a special evening planned to honor Nene.? All of the ladies were to wear the same shade of Blue but Marlo chose to wear a brightly colored print dress.
Diana and the other ladies hold their tongues, but it was Cynthia Bailey who finally called Marlo out for drawing attention away from the bride with her non-blue outfit.
Marlo takes the opportunity and runs with it. She immediately breaks down and blames her hardknock childhood for her inability to be a team player.
[READ: Marlo Hampton Explains Her Criminal Past… ]
Nene's not having it! She steps in to let Marlo know that her title is 'bride-maid', not bride.
[READ: RHOA EXCLUSIVE: Nene and Marlo Beefing… ]
There's also a lip-swelling insect flying around Cancun and the results of it's bite is NOT CUTE… 😯
A 'bride-maid' gets bit by some kind of special mosquito that has the same effect as collagen lip injections.
Meanwhile, back at the ranch….
Gregg and his gang of groomsmen are coordinating a special wedding day surprise for his fake ex-wife/new bride.
Watch the full episode:
Video via Yardie?- Alternate Link
What did you think of this recent episode of 'I Dream of Nene: The Wedding'?
Was Marlo out of line?
Photos: BravoTV