Phaedra Parks of The Real Housewives of Atlanta is suing one of her crazy obsessed fans, Angela Stanton, for defamation.
[FLASHBACK: Fan Mail: Author Angie Stanton is Eerily OBSESSED With Phaedra Parks]
Stanton, who wrote the book Lies of a Real Housewife, had been dodging service of the suit for the longest but recently began sending out "press releases" announcing she was to face Parks in court.
[READ: Angela Stanton Who? VIBE Backpedals on Parks Tell-All…]
Stanton and Parks were finally scheduled to face each other in court this month (July 18), that is… until Stanton got on twitter glorifying the incarceration of Park's "key" witness, who happens to be Stanton's baby daddy.
While some of you were silently cheering for Phaedra to fail, Stanton may have actually set up her own demise with a series of underhanded antics, which included this announcement on twitter.
?Read more of the sordid legal details below…
Stanton's baby daddy, Justin Cody (aka rapper 'Decatur Slim'), was recently indicted for Identity Theft Tax Fraud, and allegedly?used hundreds of stolen identities to claim more than $600,000 in bogus tax returns.
Prosecutors said Cody, of Decatur, used electronic filing identification numbers of at least two tax preparations businesses, along with ID information stolen from hundreds of victims and bogus earning and withholding information to file fraudulent tax returns between February and May.

He then directed the funds to blank prepaid debit cards that he and Wilmore, of Atlanta, used at ATMs across the metro region, federal prosecutors said.
Angela Stanton promptly sent the word out and got on twitter to gloat about the arrest, stating,
[Sidebar: Hood Rule #1 – Keep your legal issues OFF of 'da twitta'… ]
Wouldn't it be interesting if Angela was behind her baby daddy's recent indictment? Hell… lots of people have been known to go above and beyond to prevent witnesses from testifying. (I'm just saying… )
On a related note,?Jennifer Brett of The AJC recently reported that the trial?proceedings?have now been delayed for five months after??Stanton's lawyer abruptly called it quits.
Paperwork filed earlier this month indicates that attorney Eddie Beal had been "representing Stanton on a pro bono basis, always with the understanding that she would secure other counsel."

Court documents state that "due largely to her depressed financial situation, Stanton has been unable to secure another attorney" but that she "believes she can secure the services of another attorney within the next two months and that the case could be ready for trial within the next five months."
Beal filed notice he is officially withdrawing as Stanton's attorney and included in the case file is a letter he sent to her, which states:
"I will no longer represent you in your case in which you are a defendant. I am terminating my attorney-client relationship with you because we have irreconcilable philosophical differences regarding how your case should be handled."
[ATLien Translation: ?"I told yo dumb "A"zz to stay off of twitter and you refuse to take my legal advice. Goodbye and good riddance!"]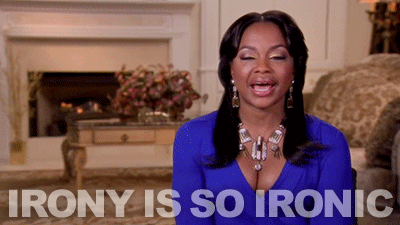 Phaedra filed the lawsuit last year, following VIBE 's post and financial support of the publication of Stanton's online book, "Lies of a Housewife". ?She claims the book is false and defamatory and?demands a trial by jury along with $5 million in compensatory damages and $25 million in punitive damages.
"The false and defamatory accusations were published online to generate interest in, and increase sales of, a subsequently published book that would repeat and expand on the online statements," the lawsuit reads.

The lawsuit also states: "While (Parks) recognizes the importance of the role of the media in reporting on public figures, (Stanton) and other members of the media are not granted unfettered right or privilege under the First Amendment to defame public figures by publishing false and defamatory accusations with actual malice."
Stanton's online articles and e-book have since been removed from both the Vibe and Augustus web sites, however she continues promoting the book online via Twitter (which, I suspect, is probably why her lawyer quit).
At any rate, the case will resume when Stanton tricks up enough dough for another attorney. ?In the meantime, you may see 'Author Angie" roaming the streets with fellow convict, famed high-priced "escort" Marlo Hampton.
[Sidebar: I swear this should be a lifetime movie… :shock:]
What do you make of all of Stanton's shenanigans?
(Tell the truth and shame the devil!)