I started StraightFromTheA back in 2007 as a way to creatively share my thoughts on several topics in urban pop culture and since that time, have had my share of controversy surrounding a few of my opinionated posts… ie the Tameka Raymond saga during she and Usher's divorce, Nene Leakes' twitter beef over being outed about her fake divorce, Kim Zolciak's foul mouthed insults and most recently Sheree Whitfield's Chateau Sheree beef.
[READ: Freedom or Speech ain't Free! Bloggers Win Against Ex-RHOA in Court… (VIDEO)]
During one of my soapbox moments, I uttered the phrase 'freedom of speech ain't free' and I'm personally starting to believe that's a fact.
As my audience grows, my right to my opinion diminishes and now it's becoming more evident everyday that when I write things that people don't like, they will do the most to shut me up.
There's a vast array of posts on this site. I've collected over 6 years worth of my opinionated thoughts on issues that sometimes were only of interest to me.
That being said… there are several posts written regarding that whole Raz B/Chris Stokes drama that Stokes apparently doesn't want any of you to read (again) and he's been threatening me for years in an attempt to intimidate me to remove them.
WARNING! This post is long as hail and filled with documentation….
Here's the thing… I don't know Chris Stokes and I've never met him.? The same can be said for Raz B, Marques Houston, Omarion and that entire B2K, IMX clique.
I began blawgging about that whole Raz B situation back in 2007 and it was shortly after that time that Chris Stokes began spamming my inbox with various "legal notices"… often creating these elaborate letters stating that I was posting "false" stories about him.
[Sidebar: My posts all stemmed from Raz B's videos that were posted all over the net. I never "falsified" any information regarding Raz B or Chris Stokes and all of the posts contained on the site clearly indicate my opinion on what was posted by Raz B and/or another Stokes associate. ]
Freedom of speech ain't free…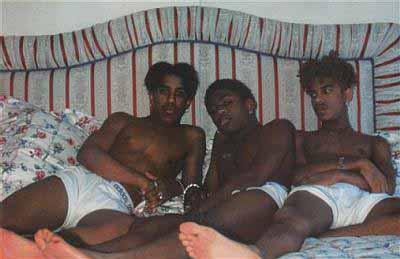 I'd written my first post about Raz B in Dec. 2007, it was at that time that the former B2K member had publicly accused Stokes of molestation.
Raz B aka DeMario Thornton, released several videos between 2007 and 2012, in an effort to corroborate rumors of inappropriate sexual activity amongst the young band mates and their manager.
I began to receive emails from "Jay Owens " of TUG WorldWide INC. [ FYI – The Ultimate Group (TUG) is Stokes' record label that once featured artists Omarion, Marquis Houston and more (Wiki Page).] demanding that I remove the posts from my site.
Correct me if I'm wrong, but Raz B made the video… not me! I merely reported on what I saw and even posted Stokes' response to the accusations.
[READ: Raz B Accuses Chris Stokes of Molesting B2K (VIDEO)]
In 2009, Chris Stokes was apparently feeling some kinda way about my refusal to delete content from MY site and decided to come for me on Twitter after I retweeted the following:
RT @missjia: LMAO @chrisstokes1969 coming for me. I like men, you like boys. Mine is legal, urs gets u locked up <~~ LMAO! Get him girl!

? Michelle Brown ? (@ATLien) June 3, 2009
Stokes deleted his tweets and I didn't do a post on it at the time, but thankfully another BLOG picked up the story about our beef, documenting Stokes' juvenile antics, stating:
Well, just as I was about to log off of twitter, I saw B. Scott mention Chris Stokes verbally abusing a woman OVER TWITTER. How old are you again, Chris Stokes?

It's bad enough he's even talking about anyone with the recent scandals he's been in and the abuse he's cause on all his TUG peers, but to call a woman out of their name and THEN on twitter? [READ: Twitter Beef: Chris Stokes vs. ATLien… ]
@chrisstokes1969 I like food and you like dicks….so what else you got?

? Michelle Brown ? (@ATLien) June 3, 2009
Fast forward to 2012, when I began receiving emails from B&B Legal. [FYI – B&B, an acronym for "Brian and Barrett Pictures," the producers of Stokes most recent box office flop "Battlefield America" (more info).]
The emails I received all originated from brianandbarrett.com, the production company created for "Battlefield America".
B&B Letter 8/21/12 (READ)
B&B Letter 9/19/12? (READ)
B&B Letter 9/24/12 (READ)
An email received from "B&B Legal" received October 3, 2012 contained a long listing of links from StraightFromTheA.com (READ).
I'm assuming that Stokes went through my entire site and posted every link where I had ever mentioned his name and demanded that I remove ALL of them from the site or "a civil suit will be filed against you in Los Angeles Superior Court on October 11, 2012 with no exceptions."
Apparently Chris Stokes doesn't want you to read any of the following posts that I've written over the years:
B2K's Raz B Pulls Ray J into Molestation Drama (VIDEO)
B2K's Raz B Wants to Confront Chris Stokes on Oprah…
VIDEO: Raz B Speaks Out Against Bishop Eddie Long…
Raz B Outs Bow Wow! Chris Brown & Ray J Respond…
Omarion Speaks Up About Chris Stokes…
VIDEO: "I Know A Gay When I See A Gay" – B Scott's Response to Chris Stokes
Tyler Perry's Oprah Interview Inspires Raz B to Speak Up…
Marques Houston Seeks Restraining Order Against Raz B
Raz B's Brother Says Apology Tape is Not Real…
Watch Your Mouth Around Raz B…
Raz B Says Video Was A Lie…
Homies Lovers and Now Friends? Raz B Spotted Out With Chris Stokes…
Again… freedom of speech is NOT free. 😯
Stokes not only demands that I delete any reference of him from my site, but judging from the links he keeps referencing, I'm guessing he wants me to delete Raz B, Bow Wow, Chris Brown, Ray J, Bishop Eddie Long, Tyler Perry and Oprah too.
I received an identical threatening "legal notice" email from "Brian Lewis Esq" on March 27, 2013 (READ).
My interns did a bit of research and found that the office address listed on the website for "Brian Lewis Esq" (aka Stokes' high powered entertainment attorney) is 324 South Beverly Drive, Beverly Hills, CA 90212, which happens to be a nail salon in Beverly Hills.
Also, the website for Brian Lewis, Esq. (which you can view HERE) is a poorly constructed shell of a site created December 2012.? The site is registered to an address which happens to be the local UPS store in Anaheim Hills, CA. Hmmm…. interesting right?
Could this be yet another attempt for Stokes to strong arm me into deleting posts written on the Raz B subject matter? The plot thickens…
About a week ago,? Marques Houston got involved and hit me up on twitter asking for some private conversation…
Marques DM'd me the number of some guy named "Richard". One of my assistants spoke with Houston's camp, and again… it all rolled back around to Stokes wanting all of those legitimate posts removed from the site.
The saga continues and now "Richard" is emailing and calling daily seeking to get the same posts removed that Stokes has been threatening me about for 4 years now. In a recent email, "Richard" states:
Chris Stokes feels that his name is being falsified on your website. Chris has sued several Internet sites and won including YouTube. I've asked for you to remove the false content regarding his name already, and have reached out to you via email. If you don't hit me back, I will be forced to suggest to Chris to file the lawsuit against you with his attorneys by Friday May 10, 2013. Please talk with Michelle and lets get these links removed. Thanks
Question #1: How does one "falsify" a name? I googled it and couldn't find an answer…
Question #2: So Chris Stokes sued Youtube and won?? Really?? Then why are all those Raz B videos still available all over YouTube? I searched for any news that Stokes had ever actually sued blogs over Raz B but all I found was that Stokes is currently being sued by some lady for allegedly scamming $10,000 from her over that Battlefield flop.? I also find out that Stokes has tried to strong arm other sites by using the same tactics (READ THIS).
Anywhoo… I wrote this post to document Stokes' shenanigans which, in my opinion, are meant to intimidate sites into removing legitimate content.? I'm also on a mission to prove my theory that blawggin ain't a game and freedom of speech ain't free.
What do you think about Chris Stokes' quest to erase Raz B's accusations the net?
Photos via Instagram/Twitter