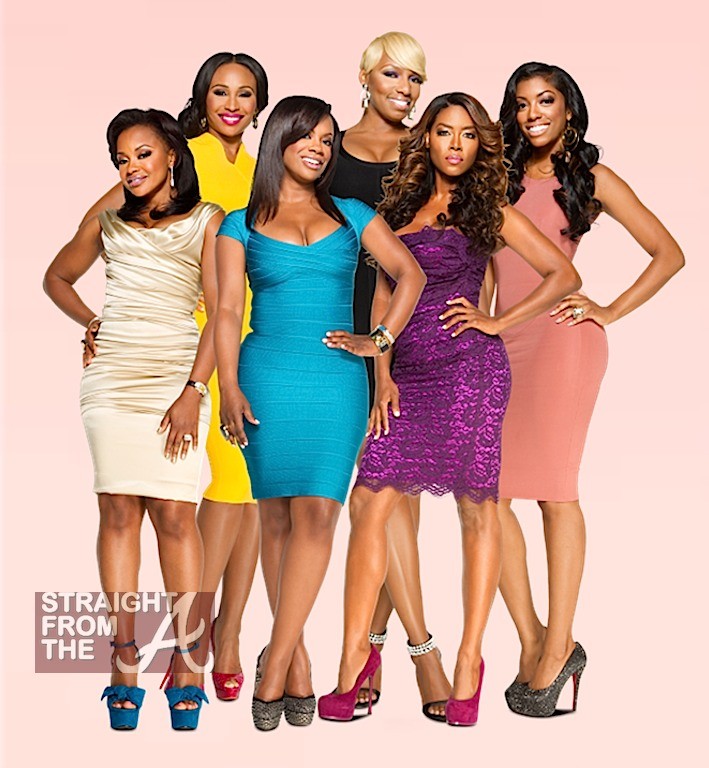 The Real Housewives of Atlanta's 5th season came to a close last week with the conclusion of their 3-part reunion show…
[READ: RECAP: RHOA Season 5 Reunion Show (Part 3) + Watch Full Video… ]
The season may be over, but apparently Bravo still had a few unseen clips to "reveal" to RHOA fans.
Episode 24 was dedicated to to disclosing secrets from never-before-seen footage from season 5. ? Bravo gave viewers an inside peek during the "Secrets Revealed" special, which featured previously unaired footage from several RHOA events including: Phaedra Parks' pet funerals, Cynthia Bailey's fashion show, Apollo Nida's photo shoot, Lawrence Washington's "salon opening." the housewives' reactions during reunion and more.
One scene leaked prior to the show, included Kenya Moore attempting to spread yet ANOTHER gay rumor. This time her focus wasn't on Walter Jackson, but on her fellow cast mates.
[READ: Nene Leakes & Cynthia Bailey = Lovers AND Friends? (PHOTOS + VIDEO)]
There were a few scenes that were entertaining, however the best "secrets" revealed last night were probably not intended to be disclosed.
Check out a few secrets NOT revealed during the "Secrets Revealed" special + watch full episode below…
Apollo's Modeling Career
I blawgged about Apollo Nida being signed as one of the first male models under Cynthia Bailey's The Bailey Agency.
[FLASHBACK: The Bailey Agency Reveals New Male Model: Apollo Nida! (PHOTOS)]
Apollo Nida won the vote for sexiest "househusband" several years ago and has yet to be defeated. In several clips of previously unaired footage, Apollo tries his hand at modeling with supermodel/housewife Cynthia Bailey as his guide.
Cynthia advises Apollo to try his hand at fitness modeling and sets up a test shoot with him to evaluate his skills. The two of them also hash out a business deal where she gets 20 percent if he lands a modeling gig. Cynthia then invites Apollo to one of her fashion shows and while backstage, Cynthia introduces to Apollo to male supermodel Tyson Beckford, who offers to mentor Apollo in the modeling business.
No word on why this storyline didn't make the cut but perhaps it was more interesting to watch Kenya drool over Apollo, than to see him actually working. Who knows… *shrug*
Phaedra Parks funeral business…
In case you didn't know, Phaedra is dead serious about her funeral home aspirations! (pun intended)
While the attorney/housewife/mom2be has actually handled some serious human funerals alongside Atlanta's Willie Watkins Funeral Home (click HERE to refresh your memory), during previously unaired footage, she was shown handling pet funerals.
Cameras followed Phaedra as she learned how to embalm dogs and cats and they capture Parks' first pet funeral on tape where Phaedra?s mom, Pastor Regina Bell, joins in and shares an awkwardly brief speech about the deceased family pet.
Phaedra is also shown discussing her mortuary sciences degree during the reunion, where she stated that she had to pause embalming corpses due to the health risks of exposure to those harsh chemicals during her pregnancy.
Lawrence Washington's salon opening…
You may recall that "Miss" Lawrence of "Fashion Queens" caught much shade last year when it was revealed he fell out with ex-housewife Sheree Whitfield after her HAIR did the same (click HERE if you missed that)… but that didn't stop Bravo from renting out a popular Atlanta area salon to tape Lawrence's "Salon Grand Opening".
For the record, Lawrence didn't open a salon at all and while I'm sure it seemed like a great idea at the time, I mean think about it…? Kenya Moore could stop in and spill tea with her "BFF" while getting her hair layed (i.e. Kandi Burruss at Derek J's J-Spot Salon)… things didn't work out as planned.
After it was discovered that Lawrence's cosmetology license was questionable in the State of Georgia, the Salon storyline was scrapped and Bravo moved on to bigger and better things (like Kenya and Walter's "fake" relationship).
Another "secret" revealed during Lawrence's "Salon Grand Opening" was revealed first on StraightFromTheA.com last year….
[FLASHBACK: EXCLUSIVE: Meet Nicole Porche, Atlanta's Newest Housewife… (PHOTOS)]
Nicole Porche, Lawrence Washington, Cynthia Bailey & Nene Leakes…

In keeping with the "Smalls vs. Talls" theme, an up & coming actress by the name of Nicole Porche was added to the cast and taped for several months alongside all of the ladies, including Kenya Moore.? Porche is featured in several scenes during Lawrence's "Salon Grand Opening," and all of the housewives (including Kandi, who Lawrence throws shade at due to their failed negotiations over his singing career).
[FLASHBACK: In The Tweets: Did Kandi Cheat Lawrence Out Of "Closet Freak" Royalties? ]
I'm sure the Salon opening was full of great drama.? Even Kim Zolciak and her hired Black friend Sweetie came through to sit in the corner and act bored.
(You do realize by now that Sweetie was an actress hired to hang out with Kim right?)
Sweetie & Kim….
[FLASHBACK: EXCLUSIVE: One on One with Sweetie Hughes… (VIDEO)]
Sadly, Nicole's stint as an Atlanta 'housewife' ended before the season even started when Bravo apparently determined one actress on the cast (Nene) was enough.
[FLASHBACK: RHOA Season 5 Cast Update… The Search Continues (PHOTOS)]
Just FYI… Nicole Porche was replaced by Porsha Stewart which is why Stewart wasn't in the Season 5 premiere episode.
Watch the full RHOA "Secrets Revealed" Episode #24 below courtesy of MrWorldPremiere….
Can you think of any other "secrets" Bravo inadvertently 'revealed 'during the hour long special?