Nene Leakes of The Real Housewives of Atlanta poses above with her two "half" sisters.
The photo was shared by Nene's biological "half" sister Kendle "Kenya" Sparks-Davis, who hit the net last week in response to Nene's hysterical tirade against cast mate, Phaedra Parks.
Kenya, who was feeling some kinda way about being referred to as a "half" sister, disputed Nene's claims that Phaedra on a mission to get dirt from her family members, and claims that it's the family that's been trying to be heard all these years, by any means necessary.
[READ: Hot Tea Alert! Nene's "half" Sister Kenya Spills it All Online… (PHOTOS)]
Nene came down from her pedestal just long enough to issue a tweeted response to news that her sister was feeling some kinda way, stating…
While that may be true, I don't think you should ever be too "big" to have a sit down talk with your blood relatives, which I've HEARD, Nene has refused to do.
That being said, Nene is shaking off the negativity by moving forward with plans to re-marry her fake ex-husband Gregg on her new reality show, "I Dream of Nene: The Wedding".
[READ: The T.E.A. About Nene & Greg's New Reality Wedding Spin Off… ]
And in doing so, Leakes shot her sisters a cryptic message when she posted a few photos of her selected bridesmaids.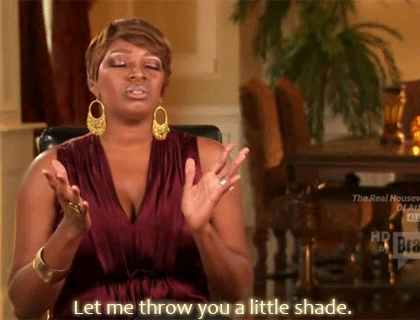 Details below…
Nene's upcoming wedding celebration is rumored to be taping over the next few weeks.? She and her bridal party flew to L.A. over the weekend to get the party started for the upcoming festivities.
"Biological"??? Hmmmmm…
Just for the record, Nene's bridesmaids include: Jennifer Williams (basketball wives), Diana Gowins (click HERE to read about 'Dirty Diana'), Marlo Hampton (former b-list character and current mugshot mania record holder), Laura Govan ( basketball wives), Lexis Mason, Pat Sumpter-Davis, and of course Cynthia Bailey.
The ladies have been partying all weekend in preparation for Nene's big day.? Filming has already started and I'm sure we'll get to see footage of Marlo, Nene and the gang back in the strip club doing "bachelorette" stuff.
Just FYI… Cynthia Bailey was spotted at the Tribeca Film Festival in New York last week, so I'm assuming she flew in at a later date.
Gorgeous!!
Nene and her bridesmaids getting liquored up…
It appears that Nene has traded in her "half" sisters for a new group of "biological" sisters…
For the record, Nene and none of these women share a mother OR a father, so I guess the "biological" debate can continue.
What do you think about Nene's message to her sisters?