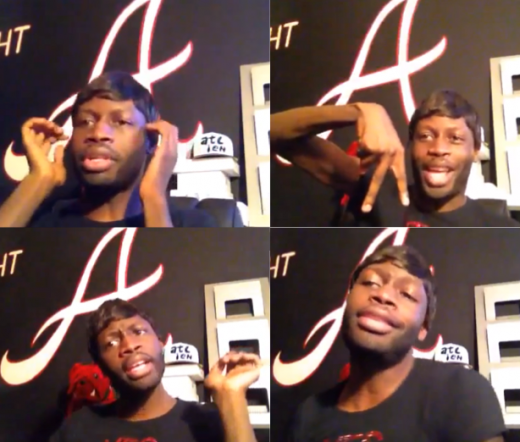 Funky Dineva
, the comedic mastermind behind those hilarious
"My Hair is Layed" videos
.
We have been trying to figure out a way to collaborate since we first partnered for "Yes Gawd" action news for exclusive coverage in front of the Tyler Perry Studio Fire and that special construction update at Chateau Sheree.
Now I think we may have figured it out.
Check out Dineva's special video announcement specially for readers of StraightFromTheA below…
VIDEO: Funky Dineva Announces Dear Dineva for StraightFromTheA
Funky Dineva announces "Dear Dineva" – a new feature on StraightFromTheA where he/she will attempt to solve your problems as only Dineva can!
Send your Dear Dineva letters to us and Funky Dineva will answer them weekly via one of his hilarious videos taped from the desk of the StraightFromTheA home offices.
I tried this many many moons ago with Ask Alexyss – featuring Alexyss Tyler (remember her? She was the "Vagina Power" lady)…. so this should be fun!
Are you having issues? Relationship problems? Trouble adjusting in a new city (Kenya Moore)? Afraid to "come out" of the closet (Raven Symone)? Whatever your concern Funky Dineva will try to solve it!
Leave a comment below with your questions or email your "Dear Dineva" letters to DearDineva@FunkyDineva.com or StraightFromTheA@gmail.com and you may just find it answered in our weekly video series, starting this Friday, May 25, 2012.