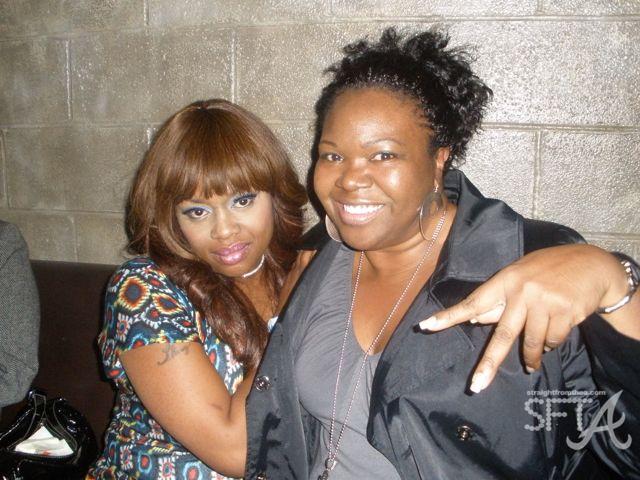 After all the hoopla surrounding Keyshia Cole's sister, Neffe's pregnancy, you woulda thought that chick was carrying the messiah in her belly! First Neffeteria reveals her pregnancy to Sister2Sister's Jamie Foster Brown, then Mama Frankie hits the Atlanta airwaves and bashes Neffe's boo Soullow by pretty much saying he's a deadbeat and then Neffe & Soullow hit the sofa to post a video "response to the media" addressing the pregnancy and discussing the numerical order of her babies and their daddies. *sigh* I'm tired just re-capping the drama…but now that you've caught up, Neffe says SLOW YA ROLL…she ain't preggers!  At least that's what she says…
I caught up with Neffe at Aaron Reid's YEEC showcase and she was adament that while Soullow is her soulmate (she has a big "A"zz tatt to prove it), she is NOT carrying his child….and if she is "so f*cking what?!?" <~ her words.
Check out her hilarious video attempt(s) to shout out StraightFromTheA.com and more photos of she and Dariel below:
So you're probably asking…is she is or is she ain't? Hell…who knows?  I feel like I've been thrown a curve ball but..who cares? I just love the drama! So I'll be tuning into the Frankie & Neffe show to find out. In the meantime, umma call up Frankie to find out what the hell was in that dayum drink last week!